Handsome Furs show the love for good Szechuan at Starlite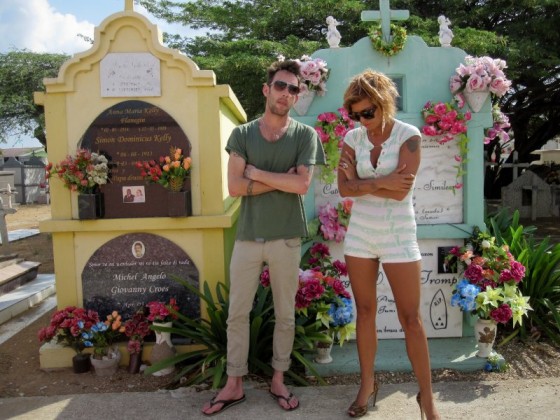 Anytime a band ventures outside the traditions of pop music structure, it automatically faces the prospect of being declared more interested in the art than the entertainment and, therefore, pretentious. Broad social disinterest ensues.
It's often a crock of crap, of course. Most artists I've ever met are just as apt to be entertained by facile distraction as anyone else. They just find larger, complex issues more interesting, and that's reflected in how they write tunes — sometimes making them even better, not less structurally funky or soulful by automatic extension. It's not a bad thing, to be intellectually curious. It's just considered anti-social when the inherent nature of community is to gravitate to the easiest commonly accepted answer.
And so it is with the two-person electronic pioneers Handsome Furs, comprised of Wolf Parade's Dan Boeckner and his wife, writer Alexei Perry. The duo play The Starlite Room tonight at 8 p.m., with tickets available through Primeboxoffice.com, here.  You have to think the latter's influence has helped nourish Boeckner's artistic soul, as it's the lyrical poetry underscoring the bass thump and distorted rhythms that drives the band. Its third album, Sound Kapital, was released a few weeks ago.
There's something to be appreciated in any form of entertainment that respects wordplay, the ebb and flow as a decent idea is expressed through lyrical turn-of-phrase. Weigh it for yourself, in an excerpt from the band's blog written last night, as it travelled across the country. The performances are so eager and intense that each becomes an occasion, a community event, where people actually get to know each other's names and even an idiosyncracy or two, a passion beyond what's possible through a Facebook page:
"There are nights when you very actively feel that what you are doing with your life is the right thing and this was surely one of them," the blog notes. "So, Saskatchewan, when I am forced to tell you that Chinese food isn't supposed to taste like the staff of chefs miniaturized themselves, coated their bodies in MSG and kitchen grease and jumped into my stomach and repeatedly gave me the middle finger from inside, it's not because I don't love you. It's because I do. I found you surprising and engaging in the most meaningful of ways. And you deserve better simply because you are so unpredictably and formidably beautiful."
Now that's loving your job. And true love obliterates pretension.