PREVIEW: River City Revue works blue at The Artery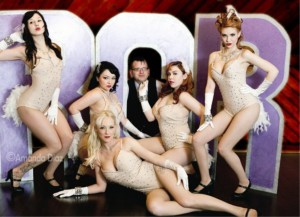 Back about 45 years ago, the slightly risque, slightly funky, mostly funny combo on display Saturday night at The Artery would have been called "working blue."
It was slightly derisive slang for "dirty," which meant the same thing then as now. You just couldn't say the word sex much, let alone something like "my humps, my humps, my lovely little lumps." No, getting sweaty required subtlety, or they'd toss your sinful heine into the hoosegow.
The show was as much about the titillation as the tits. And, just as was the case at the best showroom and burlesque houses of the 1950s, River City Revue's offering is straight out of vaudeville: some saucy, sexy burlesque; a little cheeky comedy from Kristin Ashmore; and some hip-shakin' Chicago blues from The Boogie Patrol.
It all seems a little innocent, perhaps, in these days of online porn and pop singers who are essentially sold to teens yet specialize in dirty double entendres. But burlesque — and, in their own way, standup comedy and the blues — all thrive on the mystery of leaving key elements to the imagination: the subtle slide of satin on smooth skin, the slow build to a good punchline, the grinding beat of a blues shuffle. It lets the imagination run a little wild, as surely as more predictable modern equivalents eliminate the need to think and feel pretty much completely.
Heady stuff, this burlesque. But it's not all solos by Christina Aguilera and Kat Von D. tattoos, y'know; like most passionate, niche art forms — standup, blues — it's a ton of hard work for little reward other than the chance to wow a room for a night and move them … which, when you think about it, is pretty damn cool.
River City Revue's members recognize it for what it is: art form first, source of financial reward second, says troop member Miss Kiki Queen.
"Edmonton burlesque is still growing. We have a very small community here compared to other cities," she says, noting they're one of three troops. "There have been other troops that have popped up here and there but it's hard to maintain, because there are so many misunderstandings as far as burlesque goes. Girls join a troop expecting a large return, or a misinterpretation of burlesque. Hollywood is certainly giving people a slightly wrong impression of what the neo-burlesque movement really has to offer, with examples like the Pussycat Dolls and the new Cher/ Christina movie Burlesque.
"However, the troops in the city do what we can to make a name for Edmonton: we even had at least one member from each troop represented in Las Vegas this year at the Burlesque Hall of Fame Weekend and Miss Exotic World competition. We just hope that people come out and support us all and help us grow as a community and a family."
Its combination of sly asides and calculated flirtation makes it a perfect fit for an intimate venue like The Artery, Miss Kiki notes.
"Burlesque is ALL about the titillation, tease and satire. Yes, Burlesque originated with strippers but it was all about presentation and mystery. It is an art form: anyone can take off clothes, but it takes skill to make the audience see how a simple glove fits, feels, works, and comes off the equally silky skin it is concealing.
"On July 23 the audience can expect to laugh, learn, and become in awe of all that is glittery!"