FOOD: Thanh Thanh's break elicits mournful sighs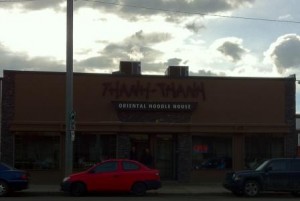 Vietnamese spring rolls, barbecue beef satay, spicy Thai soup, lemongrass chicken with coconut and hot peppers, better make that two orders, cubes of beef, shrimp in black bean sauce – and Vietnamese iced coffees all around.
You order the coffee first so the espresso can have a chance to drip into the sweet cream by the time your meal is done.
We always have the same damned thing at the Thanh Thanh Oriental Noodle House, the 101 Street . The usual, please. So predictable. So consistent. So dependable. This is the most popular Vietnamese restaurant in town. Maybe the best, too. It's a tough call. But you always know what you're going to get at Thanh Thanh – whose name translates to something like "Double Lucky" – FULL.
Regulars best stock up because the place is starting its annual summer hiatus on July 24. Name any other local restaurant that can get away with closing its doors for several weeks at the height of summer and STILL be assured line-ups when they reopen.
"We're packed on the last day before we close and packed on the first day we open," reports manager Thanh Van, daughter of owners Tu Van and Chi Phan, who take great pride in their dependable food and are in every day at 6 a.m. making the broth for the day. Thanh Thanh does not take reservations. You must wait for your soup.
The good news: This year's holiday is only two weeks instead of the usual 4-6 weeks, because Thanh's brother is getting married in Edmonton. The owners usually pay the air fare for their entire staff and family to visit relatives in Ho Chi Minh City. The Van family were refugees after the war, wound up in Winnipeg, thanks to Christian missionaries, and then in Edmonton, where they started the restaurant in 1986 when few locals had a clue what Vietnamese food was. We were just getting our heads around the mind-blowing cuisine that was Szechuan. Thanh Thanh helped spread the fragrant spices of the exotic motherland to Edmonton, and by word of mouth alone became so popular it had to double in size and – bonus – was able to afford to give everyone a long holiday every summer.
Thanh, who started working there when she was 13, says, "The first year we did it, I thought it was financial suicide. Who closes for six weeks?! But my parents really wanted to go home to visit the family back in Vietnam because they hadn't been back there since they left. We lost a lot of business for the time we were gone, but it really surprised us that everybody embraced it. The people all came back."
Regulars count the days, mark the calendar, suffer vermicelli withdrawal symptoms, pine for the aromas of lemongrass and fish sauce and fresh coriander leaves and dream of ground shrimp on sugarcane. Damn! Forgot the kimchi.
Thanh Thanh reopens on Wednesday, Aug. 10.