PREVIEW: Natasha Bedingfield gets deep in Edmonton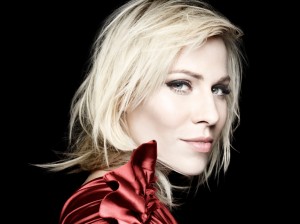 If British popstar Natasha Bedingfield were your modern stereotype, her voice would positively squeak. After all, this is a performer who's biggest hit was called "pocket full of sunshine." She's blonde, beautiful and seems chipper enough.
But you find the most surprising things out about someone sometimes. For one, Bedingfield spends her off-tour hours working as an ambassador for two charities: Global Angels and Stop The Traffik, the former helping needy kids around the world and the latter helping to end the trafficking in child labor and slavery.
Bedingfield will doubtless keep things light when she performs tonight at Capital Ex's Telus Stage. But she raises the issues whenever possible.
"There is more slavery today than there ever was. And it was just such a shock, because we celebrate the abolition of slavery," she says. "I wanted to investigate further, and found out that a lot of products (are produced through) forced human labour. Also, people see prostitutes on the street and they think that girl chose to live like that. But a lot of girls have been forced into it and kidnapped and really horrible things."
She says she has huge respect for people who work on the ground to fight against child exploitation. "I've met these incredible people who go into brothels undercover and they find underage girls who have been kidnapped. And (brothel operators) actually charge more for underage girls, it's really terrible," she says. "But what happens is these people raid the brothels and they rescue the girls and they take them to homes.
"It's absolutely incredible to find people who are doing something about (it)."
And as fun as her songs are, Bedingfield knows people react to them because they're written when she's in need of a little catharsis.
"A lot of times I write my music when I'm in a low point, where life is getting discouraging … there's actually a lot of real grit and physical things that I address," she says.""The feedback I get from people is that it makes them feel uplifted."