PREVIEW: A jaunt out with the little people at Folk Fest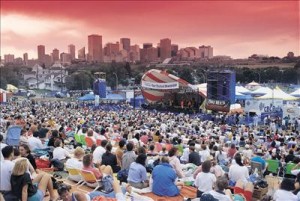 Thank goodness Edmonton's lowbrow summer festivals are out of the way. It's such dreadful bore watching the rabble wallow in their corndogs and country western music.
Ah, but with both the Big Valley Jamboree and Capital Ex behind us, the workers will be too tuckered out to taunt the polite, well-bred citizens attending the Edmonton Folk Music Festival (right) this weekend. We shall languish in our tiny liberal island in a sea of red(neck) mentality where the only thing that gets murdered is the occasional Rolling Stones song.
The wife and I were shocked and dismayed, upon our return from a holiday in the South of France, to read the front page of the Calgary Sun headline this last Saturday: "DEADMONTON." How dare they point out the indisputable facts?! And what nerve to get some so-called "criminologist" to suggest that people in a "resource-driven, blue-collar town" are more likely to kill someone than the white collar oil suits in the "high towers" of Calgary! That may well be true also, but the photo illustration of our beloved city limits sign – "Welcome to Deadmonton: City of Homicides" – was the last straw.
A strongly-worded Letter to the Editor may be in order.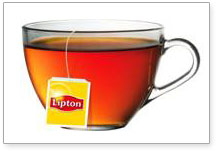 We, which is to say I, must calm down. Time for a nice cup of free range organic herbal tea (left)  whilst we peruse this year's folk fest line-up for signs of the highbrow Festival City culture we've been craving this entire annus horribilis.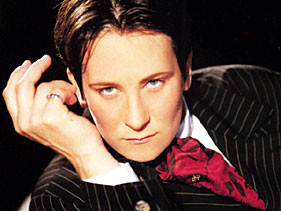 k.d. lang (Sunday, Aug, 7, closer, below right) – had the luck, for her last performance at the folk fest, to appear on the same night as Garth Brooks at Rexall Place. She couldn't resist a jibe, thanking the crowd for coming to see her, the greatest singer in the world, instead of that cornpone cowboy hack in the hockey arena. We all laughed.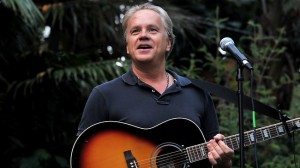 Tim Robbins (Saturday, Aug. 6: Stage 6, 11 p.m. for "And They Call It Democracy" session and in concert at 3 p.m. on Stage 3) – that's right, the actor (left). We shall expect no less musical quality from him as we do all our movie star musicians – Russell Crowe, Kevin Bacon, Billy Bob Thornton, Bruce Willis, an illustrious list to live up to, to be sure.
Lyle Lovett and His Large Band (Sunday, Aug. 7, 8:30ish) – actually one of the few examples of a country guy who could play both the Big Valley Jamboree and the folk fest and not get booed off the stage in either case. His Large Band helps.
Andrew Bird (Sunday, Aug. 7, 7 p.m.) – rounding out a boffo Sunday night is this eclectic Chicago artist whose music has never been aired on the Bear radio station. It is not known at this time whether he will have a band or be playing solo. Such is the sweet mystery of the Edmonton folk festival.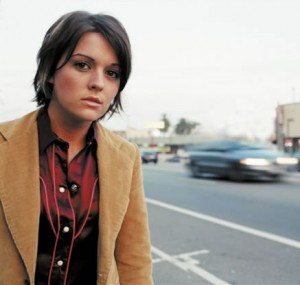 Brandi Carlile (Saturday, Aug. 6, closer, at right) – equally eclectic American sweetheart whose winsome brand of country and western music has never been aired on CISN country radio. Ditto, see above re: band.
Gipsy Kings (Thursday, Aug. 4, closer) – the "sound of pure Corinthian leather," says critic Joe Queenan, and we, which is to say I, tend to agree, as Corinthian is the finest of leathers. Expect this show to be rumbatastic!
The Amazing Kreskin (Saturday, Aug. 6, 5:30 p.m., Stage 2) – yes, he's still alive, and still enthralling audiences with his astounding feats of mentalistality. Another guy who could also do the Big Valley Jamboree – but what would be the real deal there is ironic at the folk fest. And never the Twain shall meet. That joke never gets old.
Still not convinced? Get your tickets … oh, sorry, you can't get your tickets if you don't have them already (unless you want to test your luck with the professional scalpers) because they're all SOLD OUT. Sorry, Calgarians. Keep your Stampede and your oil barons in your high towers. You're too afraid to come up here anyway.