Fringe actors get their 'one-minutes' of fame at press launch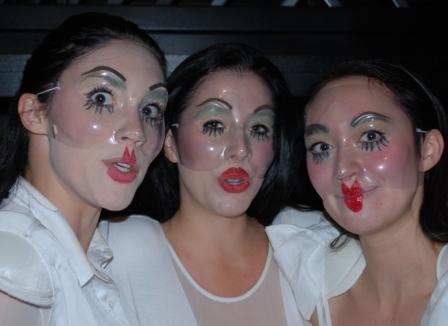 The funniest thing about the new fangled Fringe media free-for-all was watching the expressions on the faces of the actors who got cut off in mid-line with the ominous "THANK YOU!" from the side of the stage.
Your minute is up. What? We're done? Not so much as a "we'll call you?"
How exciting. It was just like a big-time Broadway audition – except that all the actors have already passed their Fringe auditions, in the sense that there aren't any. Getting a spot at the Edmonton International Fringe Theatre Festival is based entirely on lottery. Those who miss out – and that includes your established veterans who do a show every year – have to wrangle their own space, known as the BYOV (Bring Your Own Venue). (The Varscona Theatre people apparently get around it by simply making their own theatre in the heart of Old Strathcona a BYOV – take that, Fringe Theatre Adventures) There are more BYOVs every year, sometimes flung far from the festival site. Call it a necessary but annoying trend.
Moving on from a rant for another day, one minute is not a lot of time to sum up any work of theatre, especially if you've got some kind of talky drama – and yet that is exactly what the 20 or so theatre companies mounting Fringe plays pulled off at the media launch today. This new indoor format was an experiment preceding the outdoor free-for-all proper on opening day, Thursday Aug. 11. Doing any kind of advance press for the Fringe is itself a free-for-all when you're one of 100 companies putting on Fringe plays. Send out e-mails, blow your money on paper press kits, it all seems to get ignored in the tide of concentrated theatrical entertainment coming to Edmonton next week. All else is obliterated.
That said, the extra work of staging a 60-second slice of your play for a classic "tough crowd," i.e., the theatre media, in full costume (the actors, not the media) has to pay off. We, as in the assembled theatre media of Edmonton, witnessed samples of the following today:
–     A tense murder mystery
–     Cowboys having a conversation on horseback
–     A woman in her pyjamas recounting a bad dream
–     Today's pop hits rendered in song and dance
–     A chilling drama about Alzheimer's
–     A musical about Louis Riel's execution
–     A meeting with a demon
–     One-woman show about a volcano
–     Medieval comedy
–     Actors in search of a play
–     Modern dance interpretation of the origin of the universe
There were more: One-handers and two-handers and more singing and dancing and metaphysical meanderings of all stripes, plus life, death, sex, politics, history, comedy, drama, romance, horror, musicals, stuff that makes no sense at all and tap dancing!
Before the one-act-one-minutes, the theatre companies manned trade show tables that the media could peruse. An angel posed next to a penis piñata. A cast member of a beauty industry satire asked our seven-year-old assistant reporter if the grotesque mask she was wearing made her look more beautiful, and was flatly told, "no," which basically sums up the entire play. This line in the performance got a laugh: "Look at my BUTT! LOOK AT IT!"
Later came a homoerotic seduction in a Catholic boy's boarding school. Explain that!
As you can see, nothing has changed at the Fringe. The entire festival is free-for-all – still unjuried and uncensored in its 30th year. As the only local festival that can rival Capital Ex for attendance, at least with outdoor numbers pushing 500,000 last summer, the Fringe packs a lot of theatre into 11 days. Fringeopolis – this year's dystopian theme – features 1,400 shows in 40 venues, most of them BYOVs. So it's probably not fair at this point to give recommendations based on the one-minute clips mentioned above, although a musical based on the hanging of Louis Riel might be too silly to pass up. And it might be interesting to see what fate the penis piñata will meet, or what goodies it might be filled with.
Then again, maybe not. We can't tell you what's good because we simply don't know yet. You can take your chances or let the critics sort it out for you. Trick is: Everyone's a critic – and all the world's a stage: For 11 days every summer in Old Strathcona.
Advance tickets are on sale now, right here.