Delhi2Dublin brings global energy to Folk Fest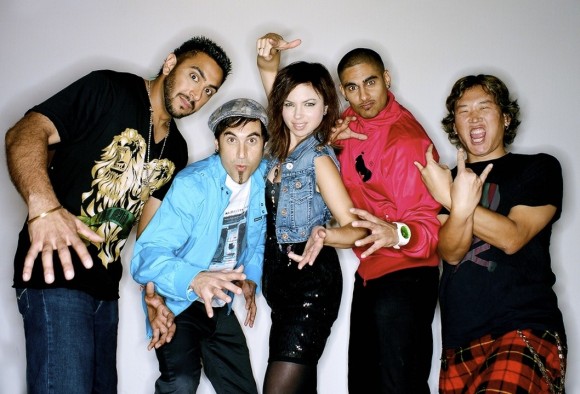 Vancouver quintet Delhi 2 Dublin is a favourite at electronic music festivals, especially along North America's west coast. Lately, though, the group has been winning over crowds on the folk fest circuit.
Delhi 2 Dublin will make its first appearance at the Edmonton Folk Music Festival this weekend. The band plays Stage 6 at 3 p.m. Saturday, after a Friday workshop on Stage 5 at 6 p.m. Friday.
People often tell band members their mix of Celtic, Indian, dub and electronic music makes them an odd fit amid lineups dominated by folk, blues and laid-back rock.
"You know, people tell us we are. But definitely three out of the band grew up going to folk festivals, and folk festivals have been a big part of our history as a band together," says Tarun Nayar, who plays tabla and handles electronics in Delhi 2 Dublin.
Speaking Monday, Nayar was fresh off a set at the Canmore Folk Music Festival, where Delhi 2 Dublin played a full set together with Edmonton band the McDades (who take Stage 7 at 7 p.m. Friday at Gallagher Park).
"In Canmore yesterday, we played the main stage slot to close the night, and everyone got up and danced. And people were saying, 'You know, this is the most people dancing at the Canmore folk festival ever,'" Nayar says.
With its focus on electronic beats, the band might be a better fit at events like Shambhala in Salmo, B.C., which it has frequented in the past.
But perhaps it's fair to say the group's sound is simply tailored for music festivals, regardless of genre.
"We bring a super high-energy vibe. And that tends to just work out really well. There's something about festivals being outside, enjoying the summertime, people aren't thinking about going to work the next day," Nayar says.
"And there's also a spirit of adventure that people take to a folk festival. They don't go to just listen to a band usually, they go to sample a buffet of music. Because we're sort of cross-global, we fit into that mentality really well."
With band members drawing on everything from classic rock to hip-hop to Punjabi music, Nayar's personal contributions come from the sounds he heard as a kid, raised by a mom from New Brunswick and a dad from India.
Avid travelers, the five musicians who make up Delhi 2 Dublin are constantly picking up new sounds on their journeys as well.
"We've all got relatives that live in Asia; I go back and forth between India and Canada a couple times a year. I get so much inspiration from traveling, and I'm constantly doing recording sessions with people and learning," Nayar says.
"When we were in Bali with the band recently, I just became obsessed with gamelan music. It's mindblowing. I don't know if it will ever find its way onto a Delhi 2 Dublin album, but it's definitely an inspiration."
The band also collaborates frequently with other musicians to broaden its horizons.
Some of D2D's likeminded friends remixed the band's tracks for the recent Planet Electrified album, and the band will highlight its dub influences on the upcoming digital-only Delhi 2 Dubland EP.
Meanwhile, Delhi 2 Dublin has been working with a number of artists including former Bass is Base member and Grammy-winning Eminem producer Chin Injeti.
The more Nayar experiments, he figures, the more he stays true to himself.
"I'm not interested in making just straight-up electronic music," he says. "If the electronic music doesn't have some aspect of myself in it, and my identity, then I'm not interested."
If you missed out on folk fest tickets, you can catch Delhi 2 Dublin at the Kaleido Festival on 118 Avenue Sept. 10.