DAY ONE: No folk at the folk fest!
Thursday, Aug. 4 at the Edmonton Folk Music Festival:
Read about Friday, Aug. 5 here.
There was no actual "folk music" at the folk fest on opening night
You say: What?!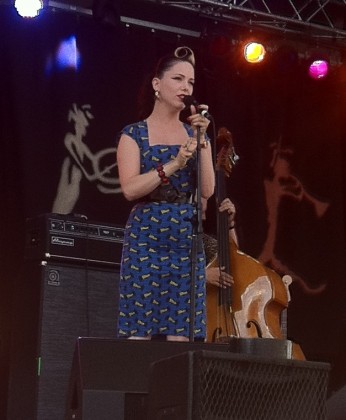 You read right. No. Folk.
Now, don't come back with the obvious "folk can be many things" argument to rationalize that any old sort of music could fall under the folk umbrella. The folk purists know this simply isn't true. We all know folk when we hear it and what went down on Thursday night wasn't folk.
It was rock and roll with Imelda May (left), African pop with Angelique Kidjo, modern rock with Edward Sharpe and the Magnetic Zeroes and non-stop rumba with the Gipsy Kings. Why, people on the hill even stood from their tarps for long periods of time, blocking the view of folk fest regulars who thought they were coming for a relaxing evening of mellow and got a rock and roll concert instead. The nerve!
There wasn't a single solo singer-songwriter in sight, except for the merciful interludes from the "tweeners." No mournful Celtic ballads, not a single fiddle solo, a dearth of bodhran, a lack of banjo, no country heartbreak songs, none of the stuff that this venerable event is built on.
Maybe this was just an off-night, one of producer Terry Wickham's "experiments" to court the youth vote. It was obvious that the folk fest ceded the hallowed ground of Gallagher Hill to the younger, more rowdy folk fest fan on this night, judging from all the scandalously-dressed young women in various stages of free form dancing. Very distracting.
The crazily jangling guitars and relentless solos of the Gipsy Kings jangled the senses and jostled the candles as the sun went down. Edward Sharpe and the Magnetic Zeroes seemed to be a one-hit wonder knock-off of the Arcade Fire, and had a song whose catchy whistling chorus caused a rush of teenagers not wanting to miss the big hit. Angelique Kidjo's in-your-face energy practically forced the audience to stand up. She even waded into the crowd and brought a bunch of people back with her on stage. And Imelda May was by far the most raucous rock and roll act ever to open this event in 32 years. People don't come to dance for the first act of the folk fest. They come to stake out their tarp and eat their boonah. That this outrageous singer was Irish was just insult to injury. Get thee to a Celtic band, lassie!
At this rate, they're going to have to call it the Edmonton Not-Folk Music Festival. Let's hope things mellow out for the rest of it.