The remarkable Louis O'Coffey provides inspiration on canvas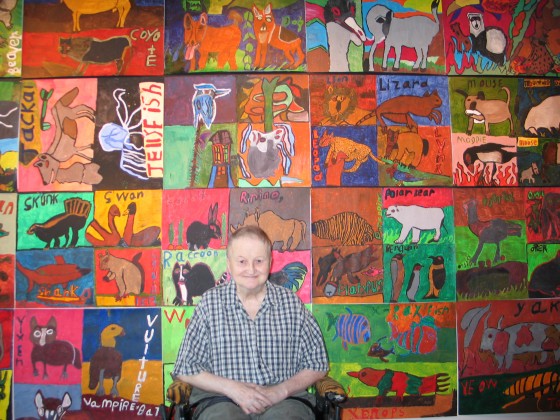 At 74, Louis O'Coffey would be remarkable even if he'd never become an artist who's had his work displayed at numerous galleries.
When he was born in Fort McMurray in 1937, the average person with Down syndrome didn't survive into their 20s. Even nowadays they typically reach what is considered old age in their 50s.
O'Coffey has been a client at the Nina Haggerty Centre for the Arts, which helps people with developmental disabilities explore their creative potential, for eight years. He used to come in to paint several days a week, but heart surgery and a general downturn in his health in the past year has limited his visits and confined him to a wheelchair.
He tires easily now and isn't as prolific, staff at the centre say. It's part of the reason they figured they ought to do a retrospective sooner rather than later.
"It makes you feel good, people coming to look at your work," O'Coffey says about his exhibition that just wrapped up at the centre's gallery on 118 Ave.
The retrospective, called "Kingdom Come," included paintings for the letters of the alphabet. Each depicted animals which began with that letter, and they were hung together to form one large piece. Some of the letters were repeated and others were omitted entirely, so there ended up being 28 paintings in total.
The colours are vivid, and there's an almost mask-like quality to the animals' faces. David Janzen, who curates the gallery at the Nina Haggerty Centre, points out a recurring motif in O'Coffey's paintings — an almost angry, menacing sun.
O'Coffee's paintings have a child-like quality — an approach often termed 'naive' in the art world — but they're clearly not the work of a child. O'Coffey has life experience.
Like many of his generation of Albertans with developmental issues, he spent part of his life in the Provincial Training School in Red Deer. As a teenager there in the 1950s, the province's Eugenics Board ordered that he be sterilized without his consent. He's also been married for over 30 years, and now lives in a care facility. He's on one floor, his wife lives on another.
Paul Freeman, the lead artist at the Nina Haggerty, says art that's produced by people with developmental disabilities often contain interesting solutions to visual problems. In O'Coffey's case, this can mean a blazing sun co-exists in the same painting as a dark blue cloud that appears to rain fire.
Freeman says it's challenging sometimes to get clients to express themselves when they first arrive at the centre. Many are used to being told the correct way to do things, often with checklists. This sort of structure is what enables many of the clients to live with greater independence.
But art doesn't work that way, so Freeman says they keep the teaching to a minimum.
"These people have always had the ability to make arts and crafts, but that isn't art. You're told, 'Today, we're all going to make a birdhouse,'" Freeman explains.
"If I show somebody how to do something, they'll keep doing it that way. They'll say, 'Paul's smart and that's the way he showed me,'" he continues.
"Here, it's different. We're looking for a different kind of independence. We're very adamant about not letting anybody help."
Families of the clients are often surprised at the results. And so are the clients themselves, sometimes.
In addition to the Stollery Gallery at the Nina Haggerty Centre, O'Coffey's work has been featured at the Profiles Public Art Gallery in St. Albert. He's also taken part in Syncrude's Next Festival and has art
in the Alberta Foundation for the Arts Traveling Exhibition Program.
O'Coffey says he always liked to draw and paint. When he started coming to the Nina Haggerty, he did most of his work with water-based paint. Staff soon introduced him to oils.
Sometimes his subjects are animals he's only ever seen on TV or in National Geographic magazines. Other subjects are more familiar to him, like DATS buses, which he uses for transportation.
University of Alberta art instructor Harold Pearse, who curated O'Coffey's retrospective, noted in the program panels that the exhibition's title, "Kingdom Come," alludes to the idea of a peaceable kingdom where wild and tame animals co-exist.
"The apocalyptic sense of 'kingdom come' is also applicable here as many paintings also depict the ongoing struggle between good and evil, devils and angels, usually under the watchful, sometimes angry, gaze of the sun or moon under cataclysmic weather events," Pearse wrote.
Pearse also noted that despite years of regimented institutional life, O'Coffey's body of work reflects both "the imaginative and everyday world of a person living with disabilities."
"The opportunity to paint on a regular basis with sufficient materials and resources has given a quiet, gentle, socially marginalized man a loud, confident voice," Pearse wrote.
"Sadly, declining health over the past months has diminished the volume, vitality and originality of that voice. Nevertheless, Louis is still a regular at the Nina Haggerty Centre and painting is still his vehicle to a personal, comforting world."