REVIEW: 2011 Edmonton Folk Music Festival a blast and a gas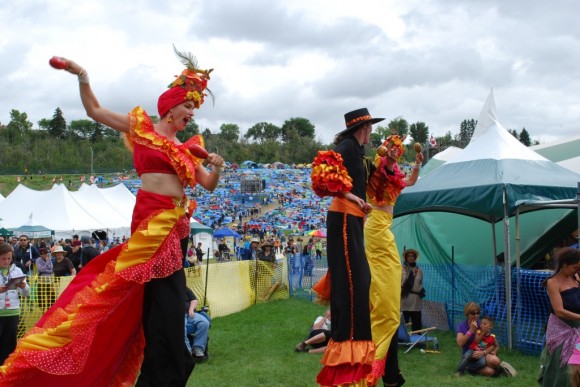 Too big? Stop whining! The Edmonton Folk Music Festival isn't big enough.
We won't be satisfied until they annex a block of Cloverdale and tear down the homes to make room for another stage, until they expand the beer garden all the way into the Dawson Forest, until they extend the event to 1,000 performances over 10 days. Compared to the Fringe, the folk fest is small beans.
Still, it sure was fun, wasn't it? Perhaps the more pertinent complaint is this: Too rowdy. It figures. There were more bands that appeal to young people, more young people, HUGE line-ups at the beer tent and people on the hill were actually standing up and dancing on their tarps! The nerve. Read our coverage here: Review of Thursday, Google Map of Friday, Review of Tim Robbins.
To sum it all up: The best shows are from people you never heard of. The formerly famous, often referred to as "legends," get away with murder. And the biggest stars usually live up to expectations.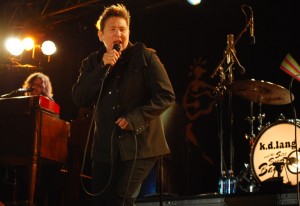 K.d. lang – high expectations, grade A – another nearly flawless performance from the Prodigal Daughter Returned. That's "nearly." She murdered Constant Craving by turning it into a rock song – the nerve! – but was forgiven after doing an old country number "that I probably did at the Sidetrack" in the encore.
Lyle Lovett and His Large Band – high expectations, grade A – basically did everything EXCEPT straight-ahead country.
Andrew Bird – medium expectations, grade A – one of the most "alternative" acts the folk fest has ever seen, played violins, guitar, made his own loops on the fly. If Ecstasy had a soundtrack.
Blackie and the Rodeo Kings – medium expectations, grade B – cosmic country trio narrowly avoids self-parody in afternoon show with strong songs and fabulous female guest singers.
Del McCoury Band and the Preservation Hall Jazz Band – high expectations, grade A – joyous fusion of bluegrass and jazz works far better than you'd think.
K.T. Tunstall – no expectations, grade B – eclectic rock chick used drum loops, even threw punk rock in there, just for fun. Good bar band.
The Amazing Kreskin – low expectations, grade D – perverse sort of fun had in seeing how poorly his schtick works outdoors on a windy stage. At least he found his paycheque.
John Mayall – medium expectations, grade C – blues legend largely plays it straight-ahead, features Thor-like lead guitarist, insists on playing harmonica and piano at the same time.
Lissie – no expectations, grade B – eclectic, meaning all over the place, spanning Hank Williams to Maxine Nightingale, likewise sang ass off.
Kila – no expectations, grade A – Celtic "fusion" band sounds like the Gipsy Chieftains.
Tim Robbins – low expectations, grade B – movie star turns out to be more than just a decent folk singer, in a frog-voiced sort of way. Excellent band helped.
Imelda May – no expectations, grade B – must settle for "princess of rockabilly" since Wanda Jackson is the queen.
Wanda Jackson – medium expectations, grade D – Elvis's 77-year-old ex-girlfriend warbles Elvis songs like there's no tomorrow. Sorry, but this would've sucked in the real world.
Angelique Kidjo – high expectations, grade A – brings sophisticated Western harmonic structure to African rhythmic mojo, also sang her ass off.
Edward Sharpe and the Magnetic Zeroes – medium expectations, grade B – wacky one-hit wonder-ful wankestra plays it loose and trippy, plays hit, courts the youth vote. Sounds like the Arcade Fire with weaker songs.
Gipsy Kings – low expectations, grade B – rumba, rumba, rumba till we all fall down. They'd be billionaires if they were paid a nickel a note.