PREVIEW: Michael Rault's funky journey heads to the ARTery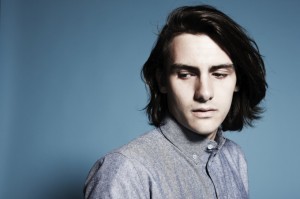 Michael Rault seems a little amused by the idea that the 50s/60s r-and-b/British Invasion fusion that marked his first CD sets him apart from…say, Luke Doucet and White Falcon, for whom he recently opened in Edmonton.
Perhaps in part that's because the latest of the local Rault clan to build a career on  blues and boogie grooves sees the bigger picture: genre doesn't matter a whole lot if the tune is funky.
" I think we made for quite a good fit on a bill together.  Luke is such a great guitar player, and he had a really good band with him, and we all got along really well with them, and had a lot of fun hanging out and playing music," says Rault, who plays the ARTery this Friday at 8:30 p.m. (Tickets Here.)
" I listen to a very wide variety of music, and so I think I'm inclined to see the commonality between my band and most other bands, especially those bands with an emphasis on musicality and groove.  People always said the same thing when I was touring with Bedouin Soundclash, too – that we didn't have much in common, but I never saw it that way.  I thought that they were a band that was very focused on creating heavy grooves, and that's basically where I'm coming from, too."
Rault broke out with a blues EP and then a  first CD, Ma-Me-O, best described as the bastard son of every blues enthusiast who woke up one day realizing the vast groovy potential of James Brown and Etta James beyond their pathos-laden cuts. He doesn't know yet how far he'll take that upbeat approach or how hardcore funky it'll get.
"I am very into seminal funk, like Slim Harpo doing "Baby Scratch My Back" and Lee Dorsey's later stuff and early and mid period James Brown, and that is an area of music that I would like to explore more," he said. "We'll see what happens, though.  Music often times tends to choose its own direction."
He applies the same formula of taking it a day at a time to road work, which he figures is going to be his focus as a performer for the few years, at least. When will that include promoting a new CD or other release? Stay tuned.
"I'm still writing songs, and messing around with production styles and trying to get an over all idea of how I want to approach the next album.  I'm looking at the possibility of doing a 7″ single or two in the coming months, but that's still not a done deal, either.  I think, if I can make any prediction of what the new sound is going to be, I'd have to say that it will be groovy, and maybe a little bit less chord change oriented.  I've been digging one chord groove songs a lot lately.  We'll have to wait and see where that ends up going in the end."