TONIGHT: Chamber of Commerce Prez's alter ego drums for Jefferson Starship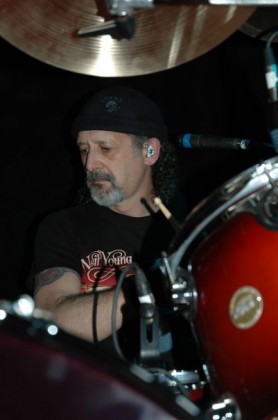 Classic rock fans ought to be used to that vague feeling of confusion seeing a favourite band that's been around since the '60s – man, who the HELL is in the band now?
The surprising answer for Jefferson Starship, playing Saturday at the Edmonton Rock Festival in Hawrelak Park, is this: the PRESIDENT OF THE EDMONTON CHAMBER OF COMMERCE.
Oh, it's no joke. Martin Salloum, 57, has been a drummer since he was a teenager and kept up his hobby in his 17 years at his respectable post.
He's developed a recent association with Paul Kantner in a studio project called the Windowpane Collective – and yes, he knows what it means – and when Jefferson's regular drummer couldn't make it over the border for reasons we won't get into here but anyone can guess, Salloum was a natural replacement.
Under the name "Lenny Flutz," his ponytail he keeps hidden in a bun at work shall be unfurled.
"Just because you wear a suit during the week doesn't mean you have to give up your passion," Salloum says, adding, "This is really just Jefferson Airplane. It's almost all Airplane material. The other band is Starship, which is Mickey Thomas, so if you're expecting to hear Built This City, you're going to be disappointed."
The most improbable part of this story isn't that Salloum has turned into his father, a "total square" who was also both with the Edmonton Chamber of Commerce and a drummer, but that "I was going to end up being the drummer for Jefferson Airplane. I never would've believed it!"