Arts-based revitalization in jeopardy, say Alberta Avenue residents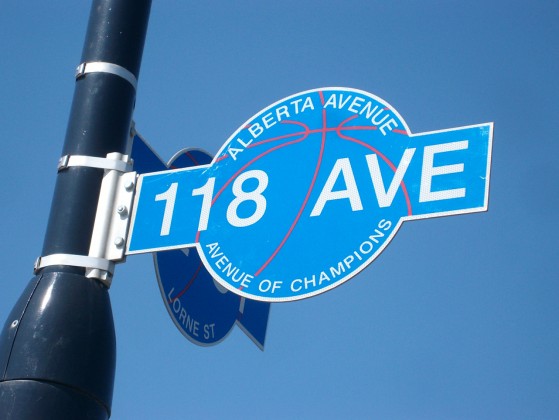 It had become as close to a ghetto as you'll find in Edmonton, until a city-backed initiative began to turn things around.
Now, Alberta Avenue residents say the remarkable transformation of their once-notorious neighbourhood into an arts haven is in jeopardy, based on hints they say the city is dropping that revitalization funding could soon be cut.
Cora Shaw, a member of the 118 Ave. revitalization steering committee, says it began when the Office of Great Neighbourhood's original co-ordinator for Alberta Avenue took another job with the city and a co-ordinator from another neighbourhood revitalization project assumed their file.
"The first thing out of her mouth was we need to develop an exit strategy," Shaw said of the steering committee's first meeting with the new co-ordinator.
"The following month, she said, 'Well, I didn't mean exit strategy. We need to develop a transitional plan.' I think she backpedalled a bit."
Gerard Forget, another member of the steering committee, says city officials have been telling them that a "transition" in the city's role is coming.
Both he and Shaw say they're worried the city expects the Alberta Avenue revitalization to fly on its own, even though they say it's too soon for the city to cut its support.
"You can't just cut it. Otherwise it's going to go back just the way it was," Forget says, suggesting Alberta Avenue could devolve back to violence, drugs and prostitution.
Treena Schmidt, the acting director of the Office of Great Neighbourhoods, says the city isn't planning on phasing out funding for the revitalization on 118 Ave. anytime soon. Rather, she says her office simply wants
community members to begin planning for the day when the neighbourhood will become more self-sufficient.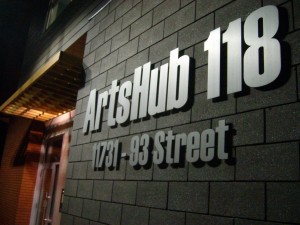 Right now, Schmidt says Alberta Avenue is in the sixth year of a revitalization process that was originally envisioned to last between three and five years. The process involves four phases, and the Avenue is
currently in the third phase, which involves development of the revitalization plan.
Schmidt says the fourth phase — "Termination and Transfer of Ownership" — is what the steering committee is being asked to plan for.
"Essentially it's to determine what that will mean and when it's time to do it," Schmidt says. "We're really just taking time to stop and reflect."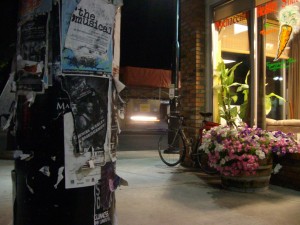 Alberta Avenue is a vastly different place than it was six years ago when Arts on the Avenue teamed up with business owners and asked the city for help rescuing the historic shopping district from its decades-long downward spiral.
At that point the city's previous revitalization plan, the sports-themed Avenue of Champions, had clearly fallen short despite great fanfare and expense when it was launched only a few years earlier.
Since the arts-oriented initiative began, however, there's theatre and gallery space, an artists' co-op housing residence, and new restaurants opening on Alberta Avenue.
Randall Fraser, president of the Arts on the Avenue board, says he believes the city sees the success of the current revitalization and will continue to find the money to keep Alberta Avenue's transformation rolling.
Sitting at the Alberta Avenue Community League Hall on Wednesday, where the playground was full of children and elderly pedestrians walked fear-free on the sidewalk, he's full of analogies for what would happen if the funding suddenly disappeared. He begins with metaphors about tables that would topple if a leg was cut away, then switches to gardens that require just a bit more fertilizer before they're ready to bloom.
Fraser says Arts on the Avenue, which sponsors the annual Deep Freeze and Kaleido festivals, is very close to getting enough sponsors to be self-sufficient. Another year or two is all that's needed, he says.
"If we get butchered, then it's not just us that can't do things. There's all these other little groups that we maintain the infrastructure for," Fraser warns.
"We've gotten to this point where we're finally standing on two legs. It would be a shame to take one of those legs away."
According to the City of Edmonton website, the city has invested approximately $23.7 million in infrastructure and streetscape improvements from 2009-2011, covering 27 blocks of 118 Ave. The site says the success has spawned similar revitalization initiatives in the Jasper Place, McCauley, and McDougall/Queen Mary Park neighbourhoods.
Alberta Avenue steering committee members Shaw and Forget say they fear that means there's extra competition for scarce dollars, which they say might explain why they feel the city appears keen to push them out of the nest.
Shaw says it's more than just the city's phrases like "termination" and "transfer" that make her worry. She says Ward 7 Coun. Tony Caterina used to come to the steering committee meetings, or sent a representative, but hasn't been coming lately.
Fraser, meanwhile, says that the city's original five-year time frame for revitalization was overly optimistic.
"You think you can turn around 30 years of violence, depression and abuse in five years?" he asks. "I mean, these things in other cities take 10 years."
"We're saying please find (the money.) It will pay off."
Caterina's office told Gig City on Wednesday that the alderman was away and wouldn't be available to comment for two weeks.
While it's surely just an expression, the Office of Great Neighbourhood's website indirectly hints at limits on resources.
"The City of Edmonton is building a great city, one great neighbourhood at a time," a motto on the site states.
Schmidt stresses there have been no indications that council plans to cut funding for Alberta Avenue as it prepares to review the city's annual operating budget, as well as it's three-year capital budget, which both happen this fall.
Schmidt acknowledges that five years may not have been a suitable estimate for how much time would be needed for the revitalization to stand on its own, noting each neighbourhood faces different challenges.
"The Avenue initiative was our pioneer initiative. We were doing our best envision what it would look like," she says.
She also says the city will continue to help Alberta Avenue, even after the final transition is complete.
"I know people are anxious. But the city never pulls out," Schmidt says.