NEW MUSIC: Features, Cancer Bats release are better late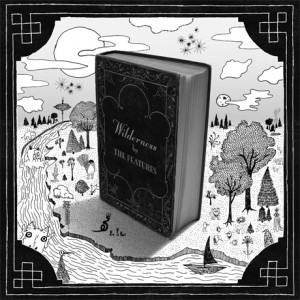 Two U.S. artists – The Features from Tennessee, and the folkier Fruit Bats from Chicago, have recently released seasoned albums in what are exceptionally long paths to their musical fulfillment. Will they fulfill you enough to earn your hard earned cash as well?
Tennessee rockers The Features are probably better known in the United Kingdom than North America, which is somewhat unfortunate. The indie rock quartet met in small town middle school, and started performing cover songs of bands such as Camper Van Beethoven and Guns N' Roses in the eighth grade. Their first release was a self-titled EP in 1997; "Wilderness" is their third full-length album, and was released on July 26.The eleven tracks on the album are all brief, with four of the songs clocking in under three minutes.
"Content" starts off the album at a middle-of-the-road pace, feeling more jangly than rock; "Kids" picks up the pace considerably, with heavy guitars overlaying a frenetic drum beat. "Big Mama Gonna Whip Us Good" because "we never ever never ever do what we should" is a fun, delightfully rhythmic track with a spectacular outro featuring both keyboards and guitars in an alluring unison. "How It Starts" uses guitars to pound out a rhythm and then keyboards to accentuate changes of pace.
"Fats Domino" is a beautiful guitar track, using precise chords with a memorable chorus where Matt Pelham sings "I'm not standing on your toes / my love / you can take everything except my rock n' roll / my love / put down Fats Domino". It's super mellow and one of the best tracks on the album.
The Features have crafted a quality album  influenced by a lot of great musicians. One of those would seem to be the Black Keys, because their sound is quite reminiscent of the bluesy Ohio duo, but with a little less ponderous low end. The songs focus on a bevy of arresting and fun, sometimes flighty, topics, and the result is a solid album that's both pleasurable and fun to listen to, and makes for great quotes at your next party.
A folkier option is the new Fruit Bats album "Tripper", which was released on Aug. 2. The Chicago band is fronted by Eric D. Johnson, who in 2000 was instructing music and had a space-rock band called I Rowboat. At the time, Fruit Bats were simply a solo project. Eleven years later, the band's on its fifth album, and third with the legendary Sub Pop label. While often described as folk, the Fruit Bats are definitely at the edge of that genre, with definite elements of rock, and rhythm and blues.
The first and de facto title track "Tony the Tripper" is a good indicator for the entire album, mellow folk for most of its journey but with a dramatic guitar riff at its conclusion, and one of the first of many tracks about particular people that Johnson has met over the years.
The second track, "So Long", where Johnson repeats the refrain "she should dance if she wants to dance", has a chorus that you'll be repeating for days, and a perfect blend of folk charm with blues emotion. The eighth track, "Heart Like An Orange", is another excellent example of Johnson's musicianship, with a fresh-sounding guitar perfectly in sync with Johnson's voice as he sings about another individual who "had a click in his knee / and a sore in his mouth / he had a couple of girls / but nothing so great that's keeping him around".
Unfortunately, the remainder of the tracks are considerably more understated, and unmemorable. "The Banishment Song" has an intriguing, almost mystical opening, and then the track devolves into a song entirely reminiscent of the Bee Gees,'s falsetto  vocals. "The Fen" is an incredibly brief (just under two minutes) instrumental track that should've just been left on the studio floor. While one gets the sense that the individuals Johnson talks about are captivating, if not engrossing and exotic, the follow-through into songs about them is often ineffective musically or lyrically.
All in all, "Tripper" is a mellow, folky album with some keyboard whimsy, but Johnson and the rest of the Fruit Bats have missed the mark on most of the tracks, opting to provide us with possibly three good songs. It's made more unfortunate by the Fruit Bats' past albums, which were more consistent and poignant, mischievous and beguiling. Coming back from an album this weak will be a definite challenge.