Maria in the Shower release CD at the Artery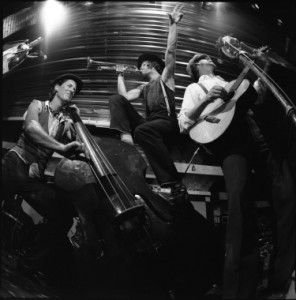 It almost feels wrong to write about Maria in the Shower  for an online-only publication.
The "folk cabaret" band would probably prefer to see this article in typewriter font on aged yellow paper.
"We wish there could be a time without electricity," says drummer Todd Biffard, noting singer/trumpet and accordion player Jack Garton always brings a typewriter on tour for writing on the fly.
"We're not Luddites, so to speak, we don't try to live in the past. But we respect the past and the cultural traditions that were there."
The Vancouver quartet will release The Hidden Sayings of Maria in the Shower at the Artery Thursday night, with opening acts Low Flying Planes and Swear by the Moon.
Although Maria in the Shower does have the mandatory Facebook and Twitter pages, it seems the mostly acoustic act would prefer to do without much of today's technology.
"Older culture and entertainment had a lot more substance to it. Contemporary directions of culture and culture traditions had gotten a little bit simplified and lacking in depth I guess, probably since TV started coming along. There's been this kind of decline in meaning and substance behind the culture we consume," Biffard says.
"Our source of ideas and inspiration goes back to a time when stories really mattered, when people were more in touch with their immediate community and that history in that community."
Named after a tabloid news story of a woman who had a vision of Santa Maria (the Virgin Mary) in her shower, the band writes about history, myths and biblical tales.
Its songs draw from an eclectic mix of folk, old-time country and Latin music, and its press materials show band members sporting old-fashioned garb, usually in black and white.
"The music is created to serve the story," Biffard says, adding ideas might come from books, old sheet music, or intriguing garage sale discoveries.
One song on Hidden Sayings tells a Native story about the history of song, for instance, while another track is a murder ballad pulled from an old newspaper obituary.
"Stories that were told and shared between people around the campfire for thousands of years, that suddenly kind of died out in the last century. We've got this more immediate culture right now," Biffard says. "We're not convinced that that more immediate culture is very lasting. So that's kind of who we are and we're sticking to it."
Maria in the Shower has become a legendary live act in B.C., incorporating many members of local arts scenes to put on elaborate, multifaceted performances that sometimes include spoken word poets, dancers, magicians or burlesque troupes.
On the road, it's a mixed bag.
Constantly touring Western Canada (including recent stops at festivals like North Country Fair and Sled Island festivals), it's just not possible to bring a full entourage from town to town. Maria in the Shower also cycles through a repertoire of more than 60 songs, sometimes adding numbers into the mix at the last second.
Don't Build A Wall Around the Graveyard, for example, was written at the 2010 North Country Fair. After Garton typed three copies of the lyrics on his trusty typewriter, the band performed it later that day.
"We tailor each show to the circumstance and the audience. Because we tour so often as well, people will see us more than once a year, sometimes more than three times. And we want to give them a different show each time," Biffard says.
"Every time we get to a new venue, it inspires a different kind of performance for us."
You can find tickets for Thursday's show here.