GUITAR FACE: Edmonton's Labatt Blues Fest in full swing, also shuffle, at Hawrelak Park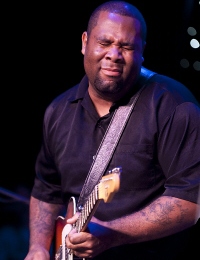 It's Bluesfest time in Edmonton, and this is one heavy blues town. With that in mind, here's a primer of sorts on this weekend's festival performers at Hawrelak Park, and some thoughts on the music itself.(Full lineup HERE.)
I had the opportunity to play blues professionally for several years. It's an interesting music that encompasses the complexity of the people who play and listen to it, without ever really reflecting it. It's quite loosely defined — everyone thinks he has an idea of what the blues are, and everyone else disagrees with that idea, at least just a little.
But, like a lot of things in this world, the blues are first and foremost a dichotomy. They represent two quite distinct sides of society, as evidenced from their earliest days in the Mississippi Delta. Back then, blues music was really just "black music."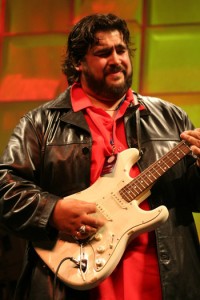 Some of it, played with a slide on an acoustic on a plantation, was full of mournful lyrics and slow, mantra-like rhythm structures, and was designed as an outlet for the utter oppression in which black Americans lived. Another side of it — partly as a consequence of the economics inherent to a special talent — was communal, and the community didn't want mostly sad songs. It wanted songs about getting over the good times, to a danceable rhythm.
This was always the case. Some blues were designed to express sorrow; other blues songs were designed to express happiness.
Sorrowful blues were partly defined by the sense of individual isolation from the world (and lost love) that they conveyed — songs like those of Son House (Death Letter Blues) , Robert Johnson (Crossroad Blues), Leroy Carr (half of the songs that survive to today, such as Blues Before Sunrise, and How Long, How Long) and Skip James (Devil Got My Woman.)
Party blues were, conversely, about laughing at and getting over life's shared challenges. They were initially played on acoustic instruments by street corner buskers who hobo'd across the U.S., then at illegal black community house parties, usually at the same few homes, called "Jukes."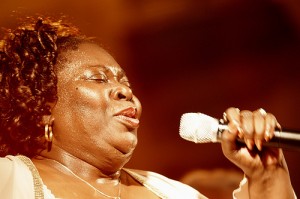 So, from the earliest days, these two styles borrowed from one another. As such, the most-able and loved blues players were those who could tap both, sometimes in equal measure, wringing out pain in one song and following it up in the next with a feeling of redemption. But either required a prime emotional expression at its core.
Over time, the upbeat form proved more popular, for obvious reasons, and was added to and adapted into new styles and commercialized even further. Blended with jazz and big-band influenced rhythms, it became R&B, then later rock and roll (notably when white America adopted it but needed a non-black name), followed by funk, soul, disco and modern extensions such as modern R&B, hip-hop and house.
What most people think of as blues now is actually a style that largely stopped developing in the 1960s. If played heavier, it was sometimes called blues-rock. But for the most part, modern electric blues still reflect the developments and styles of the period from 1955 to 1970, when the electric guitar took over.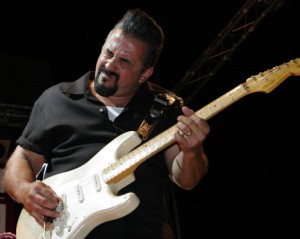 But one truth throughout is that the most popular artists borrowed both from individual pain, and from the kind of repetitive and familiar musical structures that contributed to that shared sense of enjoyment; just as campfire songs used simple lyrics to unify people by getting them to sing together, upbeat blues unified people by giving them predictable musical patterns.
In fact, recent research shows that, just as with repetitive styles of music used in traditional religions, a repeating song of any genre can promote a sense of familiarity and group well-being. It triggers positive brain chemistry and the simplicity of it (furthered by a form of "compression" our thought process applies to music) helps reduce stress.
But this dichotomous nature is also what keeps the blues from being commercially successful beyond a fairly narrow (and almost fascistically self-protective) niche: repetitive music is only positive in small doses. If people hear too much of it too often, they tune out. Thus, blues becomes a casual music for most people, the rare exception being those fans who need it for the original rational of getting over misery.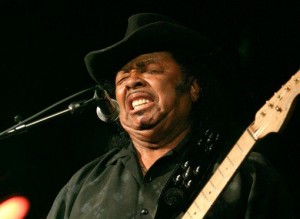 The Labatt's Edmonton Blues Festival is mostly about the rhythm part of rhythm and blues, the cathartic group behaviour, the community. When promoter Cam Hayden describes it as an annual "party", he's not joking. Nonetheless, the best players here are never as happy as the people dancing in front of them. If they were, they wouldn't play or sing the blues so damn well.
They wouldn't live in the pocket and on the road. They wouldn't party with their friends on one night, then get drunk in some shitty motel room the next, alone.
Those are the two faces of the blues. So when you pop down to Hawrelak Park this weekend and are busy shaking your groove thing, and you spy a guy or gal by the side of the tent, sorta tranced out on their own and just digging the music, consider buying them a drink and talking music for a minute, as they're the ones getting off on the blues part, not the rhythm and blues.
***
Here'a guide to this weekend's bands and who offers what. Keep in mind that individual day passes for Saturday were already sold out as of yesterday as were non-transferable weekend passes. There were however about 100 of the transferable weekend passes available for $15 more as well as individual day passes for Friday and Sunday.
Best Band to Dance up a storm
Diunna Greenleaf: Texas blues from the Grand Dame of the Houston scene (lower left photo), weened at the knee of her blues playing (and hosting) parents and friends like Albert Collins and Phillip Walker. She belts it out old-school and the dance floor stays upbeat most of the time.
Hon. Mention: Reba Russell Band – Russell's passionate vocals are the star here, backed by competent Texas and Chicago shuffles, leaning heavily on Freddie King licks (mostly from the period when he still spelled his named Freddy.) Not enough tension in the guitar work for the person with serious blues but a hell of a band to groove to for an hour.
Best band for drinking with mates
All of them.
Best band for drinking alone
Tough call. John Nemeth (lower right photo) has too much upbeat stuff, though his downbeat stuff can shatter your heart, thanks to his wide vocal range. Even though he's loud and electric, Guitar Shorty (above left) is still singing about real-deal blues feelings and issues most of the time, so he's probably your best bet. Listen to him round up the working man's perspective on the last economic decade in the incindiary "We the People."
Best band for old timey music
The Sean Carney Band – Sean is a straight-up 50s R&B star, transported into the body of a five-foot-something white guy from Ohio. From a long family of musicians, his impeccable guitar work is complemented by deep soulful vocals and some of the best stage presence from anyone you'll see this weekend. This is electric, old-timey blues as it was at the end of the heyday of guys like Lowell Fulson and the beginning of modern masters like BB King and Buddy Guy. Plus, Sean's sparse guitar playing is like fine writing, not a word wasted.
Best band for electric goodness
On vinyl, this goes to Nick Moss and the Flip Tops or Guitar Shorty, who are playing together in a huge double-set headliner on Saturday night. Moss fronts a Chicago blues band in the tradition of Magic Sam and JB Hutto, concentrating on thick shuffle and boogie grooves that fill the dance floor. Shorty is a guitar technician who, legendarily anyway, taught a thing or two to his nephew, Jimi Hendrix. He also writes deeply political music that tends to satisfy both the desire for a heavy, ear-peeling groove and to scratch one's own blues itch.
But in practise, it might go to festival opener David Gogo, who fronts his band at 5:30 p.m. on Friday. Gogo plays blues, rock and a combo of the two. When he plays blues, and fulfills that community need to groove on relatively simple, entertaining songs, he's a dominant live performer. I've seen Moss live about a half-dozen times and have always found him better in a club than at a festival; if you get Moss and the Flip Tops at their peak, maybe they edge this category.
Most Underrated
Kid Ramos (top photo) – He's an enigma of sorts, in that he's only had a couple of solo discs, both of which were brilliant and leaned as heavily on his Chicano background as on the blues. He can sing a storm, front a big band, write complex melodies and incorporate traditional Mexican folk, pop and rock into west-coast blues. Plus, when he plays guitar, he plays with more feeling than most men on Earth. He's playing guitar here behind Kim Wilson, but if there's any justice Wilson will also let the Kid front some and satisfy those of us who rarely get to see him in that role.
Most overrated
The Delta Groove Harp Blast
As anyone who loves Junior Wells can tell you, there's only so many harps worthwhile on one stage at one time and only so much required to help songs work; he did all of his best work in an ensemble situation, where his frontman status usually dwarfed his actual (often brilliant) harp. If you've got one good harp player, three more is kind of silly and often ruins the flavour of the song, like having four of any instrument might.
On the upside, Kirk Fletcher's backing them on guitar and he's an ace.Don't get me wrong, this one will be crisp and clean enough for the communal side, but those with a blues ache won't satisfy it here.
Band whose CD you must buy
Nick Moss and the Flip-Tops (above right). Moss has a fine voice and lightning licks in the style of Freddie King and Luther Allison.
Best non-blues reason to go
The general maturity level. With limited parking at Hawrelak, lots of people cab or bus it and that gives them plenty of leeway to get plastered. Yet you'll almost never see a drunken ass at the bluesfest — it would just be too contrary to the sense of community that upbeat blues help promote.
Best place to smoke a joint
Anywhere away from a standing water source. Hawrelak's mosquitoes this year make those in the Mississippi Delta look tiny. We'd recommend a picnic table under a tree, but shade just encourages the little buggers.
Best accessories to bring
* A low-backed beach chair, or buy one at the fest.
* Bug juice and sun block
* An appetite – lots of food booths and lines aren't usually too egregious
* Good shoes, for dancing and schmoozing.