Chris Isaak takes it to Bakersfield at the River Cree Casino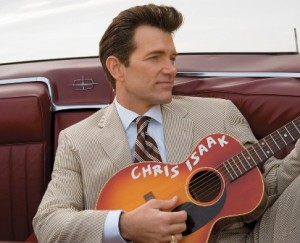 If you've either had enough Fringing for the year; or maybe the Blues Festival isn't really your scene – there are number of live music gigs happening tonight (Saturday, Aug. 20) you may want to check out:
Cygnets (Pawn Shop) – always-popular local band Cygnets is playing an early show at the Pawn Shop on Saturday night, with doors at 8pm. No word on opening acts, but this is one band no one will ever tire of seeing, with a frenetic stage show. No cover.
Wil (Hilltop Pub) – Calgary's Wil Mimnaugh (though mostly known just as 'Wil') is a roots-based singer-songwriter, who got his start playing covers from the likes of The Verve, Pearl Jam, and the Violent Femmes, then quickly began writing his own material, and now provides a "unique and powerful sound that makes Wil (an) extraordinary talent". The show gets underway at 9:30; no opening act is denoted. $8.
Chris Isaak (River Cree) – Longtime musician/actor Chris Isaak is scheduled to appear at the River Cree resort on Sunday night; doors at 7pm. Isaak is probably best known for his song "Wicked Game", and its accompanying video, in which he and Danish supermodel Helena Christensen rolled around on a beach. However, those who have followed his entire career know him more for his fusion of rock and blues, and quick and dry wit. Tickets are $59.
Michael Senchuk also writes about new music on his own blog, New Music Michael.