THIS WEEK: Top-drawing Fringe plays advance to Bonus Round – the Holdovers!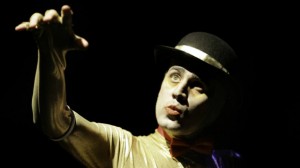 The people have spoken. Eleven of the top-grossing and most critically acclaimed plays (for the most part) at the Edmonton International Fringe Festival are going onto the BONUS ROUND!
Otherwise known as the famous "Fringe Holdovers," these following productions will enjoy extended runs at three area theatres: The Westbury in the Arts Barns, the Holy Trinity Anglican Church and the Varscona Theatre.  No beer tents or buskers. Just 100% pure THEATRE. Shows begin on Tuesday, Aug. 23. Tickets and show times are available at Fringe Theatre Adventures box office, phone 780.409.1910 or online here, or at the Varscona website, as the case may be.
FRINGE THEATRE ADVENTURES PLAYS:
– Forsooth, My lovely – a brilliant David Belke sequel to The Maltese Bodkin
– Jesus in Montana: Adventures in a Doomsday Cult – gripping religious drama
– Alexis Anybody – a short Belke comedy about wacky women
– Giant Invisible Robot – zany one-man comedy about a giant invisible robot
– Grim & Fischer: a deathly comedy in full-face mask – moving play that laughs in the face of Death
– This is Cancer – laughs in the face of cancer
– The Surprise – storytelling at its finest
– 6 Guitars – imaginative music comedy
– Scarlet Woman – amusing film noir homage
– Tudor Queens: A Burlesque – historical tale rendered in bump 'n' grind
– BOYGROOVE – hilarious boy band spoof
VARSCONA PLAYS:
– Mrs. Lindeman Proposes – introspective Stewart Lemoine comedy
– The Bells are Ringing – '50s Broadway brought to life