TONIGHT: Reformed and mature Blink-182 plays Rexall Place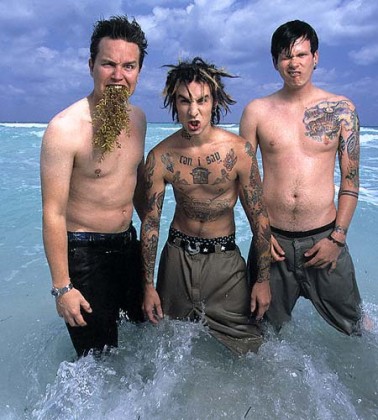 When Blink-182 played Telus Field in 2001, the band lit a giant four-letter word on fire. Take a wild guess what it was. No word on what word, if any, the guys might immolate during their concert on Saturday at Rexall Place (buy tickets here).
The album they were touring behind at the time was the massive hit album Take Off Your Pants and Jacket, which can be read as an order to masturbate, and which was an even bigger success than 1999's Enema of the State, whose order for a political colonic ended at the title, on which was a song called What's My Age Again? Huge hit, again. Singer Mark Hoppus was almost 30 at the time.
The success of Blink-182 underscores an interesting phenomenon not just in rock 'n' roll, but in human culture itself. These California punk rockers had tapped into a powerful trend: The stubborn refusal of "Generation X" – referring to anyone born roughly between 1965 and 1982 – to grow up. The Baby Boomers are guilty of the same thing, of course. Witness the huge amount of classic rock that continues to influence and infect the impressionable younger generations. You can still hear Led Zeppelin from teenage garage bands across the realm.
Ironically, punk rock was more mature before Gen X came of age. The punks of olde would taunt the establishment, insult the mainstream and pour heaps of withering sarcasm upon the rich and powerful. Here was God Save the Queen. Here was Holiday in Cambodia. Here was London Calling. These guys were rude, they were unpleasant, their music was far too fast, too trashy and too out-of-tune for polite society – and that was the entire point. It was just what rock 'n' roll needed at the time. Classic rock folk often disdained the very idea of barely competent musicians becoming rock stars – but the original punks weren't, for the most part, so juvenile and self-absorbed as Blink-182 and all the bands in the massive "pop-punk" movement to follow, where lowbrow comedy for its own sake seemed far more important than making political statements.
The other, maybe more important, reason this sort of thing became so big was because bands like Blink-182 had a heart of pure mush that beat beneath their obnoxious exterior of toilet humour and general tomfoolery. Blink's romantic side became more prevalent as the years wore on. For every rock song about rocking like The Rock Show, there were at least two tender romantic ballads like I Miss You. In short, Blink-182 was in the vanguard of a fairly new genre known as "Punk Rock for Girls." Call it "emo" at your peril, but when millions of girls start buying music, you get superstars.
We all have to grow up some time. Sobering events took place in the lives of the Blink band members, as happens. They got married, had kids. Tom Delong wanted to spend more time with his family, creative differences festered, the road took its toll and the band suffered an acrimonious break-up in 2005. Hoppus and drummer Travis Barker continued without him as a band called "+44," but it didn't last. Nor did Baker's MTV reality show. One of the band's close associates, producer Jerry Finn, died suddenly in 2008. Then, just a month later, a Learjet carrying Barker and five other people crashed after take-off in South Carolina. Barker was one of two survivors. He suffered second- and third-degree burns over a third of his body.
The tragedies brought them back together, as happens. Blink-182 reformed at the 2009 Grammy awards and more or less proceeded directly to the recording studio to make what would become Neighborhoods, the first album of new music since 2003.
And now – FINALLY – Blink-182 has turned its eye outward from themselves, making one their most powerful statements – in a career that up to now was relatively politically impoverished – with the new single Up All Night. It's faster and heavier and "punkier" than ever, but there are no jokes. Instead, there are lines like this: "Everyone lives to tell the tale of how we die alone some day." It's a bit of a headscratcher, but you can see the direction they're going.
Now can we exist in a world with a suddenly deep Blink-182 and still have the flaming FUCK? This remains to be seen. Opening the show will be Rancid and Against Me.