Area grandfather becomes living art installation at Latitude 53's In/Stall/Ed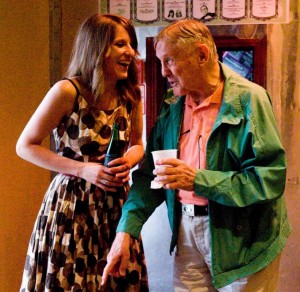 Nick Shostak Sr. may have not known what he was getting into when he agreed to take part in a performance art project with his granddaughter Amy – who, as the artistic director of Rapid Fire Theatre, gets up to all sorts of zany things.
The 81-year-old patriarch of the Shostak Clan will become a living art installation at Latitude 53's In/Stall/Ed, happening Saturday from 11 a.m. to 5 p.m. in parking lots around the McCauley neighbourhood. Amy's piece, outside the Sacred Heart Centre, 10821 96 Street, is called "My Dido, the Orator."
Her Dido (Ukrainian word for grandfather) got a chance to read the blurb: "My Dido's done a lot of jobs in his life. My Dido speaks Ukrainian and Spanish. My Dido loves to cook and to talk politics. My Dido falls asleep in his recliner. Ask him about these things."
To which he replied, she says, "Amy, I'm going to kill you."
Too late to back out now!
The granddaughter explains, "He's very much a patriarchal figure in our family. He's always sitting at the head of the table and talking, or in his recliner telling stories. He's one of the more colourful members of our family. I think so, anyway, so what I want to find out is if he's interesting to others and not just me."
Observers will invited to ask any question they dare, as Nick Sr. holds forth from his La-Z Boy perched atop a tasteful carpet, next to a small table filled with books about politics and a dish of hard candies all stuck together – basically an outdoor reproduction of Dido's own sitting room. There may be some prompting necessary to help get the conversations going.
Mr. Shostak Sr., a businessman who is still active in Edmonton's real estate community, has worked with his granddaughter before. He took part in a comedy improv class for seniors she taught (photo above), where there was a bit of "an authority struggle there," she recalls. Still, granddad did pretty well despite frequent bouts of "corpsing," a term for breaking character and laughing (also known as Harvey Kormaning, for those old enough to remember the Carol Burnett Show).
"He kept laughing at the other participants, which is really funny," Amy says. "I think he's a very interesting man. He's ruthless with his business, but when it comes to his family, he's jovial and goofy. I think so, anyway. How will he do in the public eye? I honestly don't know what's going to happen."
There are 17 projects on display at In/Stall/Ed – part of the McCauley Revitalization Strategy that includes the Madame Butterfly opera running through Saturday and the Italian Festival on Sunday in Giovanni Caboto Park. There is sensory deprivation in a "Hush Box;" a dance installation about the things we do while driving called "Carspace," and a piece about domestic life called "It's Getting Too Expensive To Sleep Anymore." They will encompass everything from static visual art to live music to various types of "performance art" that defy description. A map to the sites can be found at the Latitude 53 website here.