TONIGHT: Surf rocker Donavon Frankenreiter plays Open Sky Music Festival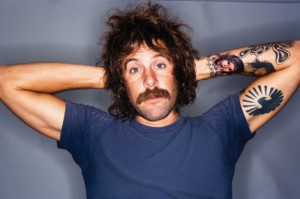 No more festivals! The summer in Edmonton, such that it was, is just too packed.
Well, OK, one more …
The second annual Open Sky Music Festival, celebrating "surf rock" and its related genres, is set to go at Saturday and Sunday at Hawrelak Park's Heritage Amphitheatre, which is at least a thousand miles from the nearest "gnarly green room" (surfing term, not filthy rock star dressing room). Headlining Sunday will be Donavon Frankenreiter (above), who, like his buddy Jack Johnson, is a double threat: recording artist and expert surfer. Edmonton's own reggae heroes Souljah Fyah will close out the festivities on Saturday night. Rounding out the bill are almost 30 noteworthy artists who may or may not share oceanic traits, from winsome solo singer-songwriters like Jeff Morris to the 10-piece party band Rocky Mountain Rebel Music. Cas Haley, runner-up of America's Got Talent, will perform Saturday. (Full artist roster here.)
Organizer Nathan Richards wasn't worried about duplicating the efforts other festivals. Surf rock is underrepresented in this town.
"It never crossed my mind," he says. "This is a niche market. There's no one doing what we're doing, so it made perfect sense. It's such a unique thing – and the response has been overwhelming."
It's lucky there's not much else going on this weekend. Local media, spinning its wheels full speed in the wake of the extensive coverage of the Folk Fest, the Fringe, the Blues Festival and so on, are all over Open Sky. While it's apparent that media attention doesn't necessarily guarantee success – nor lack of it a failure, evinced by the Edmonton Rock Music Festival that went pretty well with very little press – it can't hurt. Now there's only one little element that needs to fall into place: The cursed Edmonton weather. Several major area festivals have had their parades rained on this summer, with organizers of at least one other festival (Sonic Boom) spooked enough to move the entire thing indoors.
Richards isn't worried about that, either. Heritage Amphitheatre has a tent over it, for one thing. And last year's one day event, which had no headliners and took place on a crappy day where the temperature topped out at 10 degrees, still drew 1,100 fans. Advance sales so far for this year are around 1,500, he adds, which still won't spell a break-even point in a venue that holds 4,000 people, but then there's the beer concessions to save the day.
"If it wasn't for the beer gardens last year I would've lost my shirt," Richards says.
So area surf rock fans are urged to do their part to support this fledgling festival – and drink up.
For the future, Richards, a local bartender who took this event on a "calling" and basically does everything himself, says it would be cool to truck in a load of sand to serve as the dance floor. One day he hopes to score his dream booking: The Beach Boys – without which there might not even be such a thing as "surf rock."