Win Sonic Boom tickets!
Posted on August 26, 2011 By Staff Music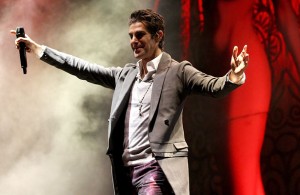 Sonic Boom 2011 may have moved indoors – from the Northlands Grounds to the Northlands Expo Centre located conveniently nearby –  but a festival it remains.
The third annual event on Sept. 4 celebrates all that is modern rock with the headliners Jane's Addiction, Social Distortion, Metric, Cake and the mighty Cee Lo Green, along with the Manchester Orchestra, Middle Class Rut, the Joy Formidable and Hollerado – and we have tickets to give away! Simply answer the following skill-testing question and you and a special friend can attend Sonic Boom 2011:
Jane's Addiction singer Perry Farrell is famous for more than songs like Jane Says. He created a travelling music festival in 1991 that not only helped put alternative rock (now called modern rock) on the map, but bridged the gap between punk rock and hip hop. Anyone who was – and is – anyone played this event. Name it and you could be a winner.
As a bonus, we'll throw in a copy of the new CD by the Manchester Orchestra (which is neither from Manchester nor an orchestra; it's a rock band from Atlanta), entitled Simple Math. Here's some simple math for you: Nine bands, nine days away, zero dollars for free tickets. See how easy it is?
Email your full name and answer to mail@gigcity.ca by Monday, Aug. 29.