TONIGHT: Santana brings greatest hits parade to Rexall Place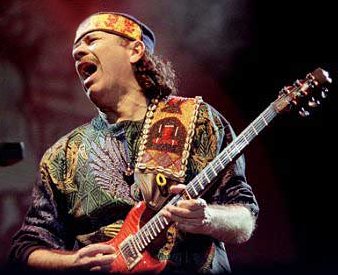 Back in the day, Santana was the real deal — we're talking way back in the day, that period from about 1969 to 1974, when Santana was more than a guy's last name.
It must be said the Carlos Santana — who plays Rexall Place tomorrow night at 7:30 p.m. (tickets) — is one very lucky, lucky man. The best music he ever created was actually a combined effort of multiple talents, because the band "Santana", which created the music that made Carlos famous, was much more than the one guy.
In fact, it bears noting that when Santana truly went solo, he kind of disappeared. First, he ventured into latin jazz for a few years, then solo pop, while also contributing much of his time and own resources to a middle-eastern guru. Anyone who's heard him babble metaphysically gets to hear the best of Santana from the late 80s (although "It's a jungle out there" was OK, in a goofy kinda way.)
His re-entry back onto the charts — a sort of cheesy, Vegas version of his earlier hipness — relied on a series of big name guest stars on a pair of slickly produced duets albums, using the same formula that had earlier worked for Sinatra and Ray Charles.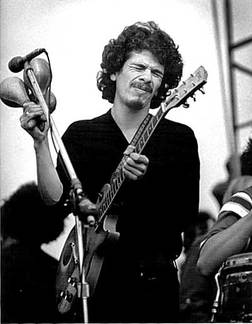 But the early band, the band behind Guajira, Oye Como Va, Just Let the Music Speak, Open Invitation — was a huge amalgam of talent. More than a dozen key members went through the band during its formative period, including early vocalists Steve Winwood (yep, same one) and long-time keys/vocal force Gregg Rollie. Neal Schon, who later formed Journey with Rollie and vocalist Steve Perry, was Santana's sideman for a few years, and Miles Davis even contributed horns on one album.
This all came about sort of accidentally; like 90% of the the young guitar bands in San Francisco, they were originally a blues act — the Carlos Santana Blues Band were vamping on the whole Albert King/Albert Collins scene at the Fillmore in San Francisco, as were former Chicago stalwarts in the Steve Miller Blues Band. Santana's big early hit Black Magic Woman was actually a cover of a Fleetwood Mac tune written by enigmatic/drugged out guitarist Peter Green, back when the Mac was…..you guessed it, a blues band.
But Santana's guitar pyrotechnics helped get them on the bill at Woodstock and the band, now just called Santana, launched into an extended jam on a tune called "Soul Sacrifice" (you can find it on the Double disc retrospective Viva Santana!) that blew away all the muddy, wasted hippies. Presto, Latin rock giants were born.
The hits rolled through the early 1970s. But as Santana moved away from a collaborative band to working with touring pros and writing and fronting all of his own material, the late 70s and early 80s pop/new wave synth craze hit, and he was pretty much forgotten, losing his record contract and being more noted as the follower of a famous bhagwan than as a musician.
Impresario Clive Davis, who had represented the band in their early days, put together his star-studded tribute disc Supernatural! in 1999, and all of a sudden, he was back in flavour. Another duet disc followed in 2005
As you'd expect of a guitar legend touring with other names for a decade, it all wound up in Vegas, where he's been headlining since last year at the Hard Rock Hotel. So keep in mind, the Santana of the Rob Thomas duet, the Michelle Branch album and the Guitar Hero character is not the famous Santana: that was a band, not just a guy. Soul Sacrifice, Dance Sister Dance and Angel Negro came during the period when the band blew other acts off stage.
The latter day stuff is just a pleasant reminder of a long-departed force of nature.