WHO NAMED THE BAND: Tzadeka gets 'righteous'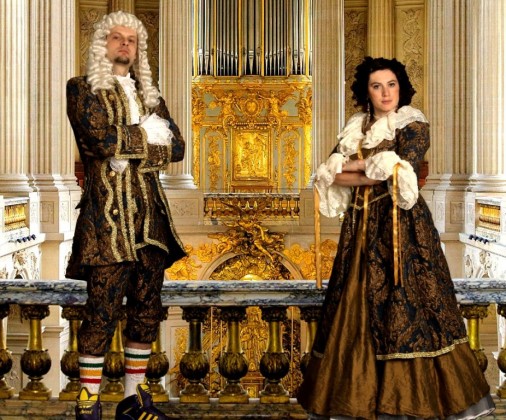 There's a collective of music makers in this town who sound like they'd be right at home at the Mad Hatter's Tea Party.
They're from the now-defunct Eshod Ibn Wyza, a multi-racial, multi-genre hip hop group that had curious connections to the punk rock scene.
Vocalist Maigan Vandergiessen used to perform under the name Solar Warrior, and has since changed her name to Tzadeka, which is a misspelling of a Hebrew word that means "Righteousness," not to be confused with SELF-righteousness. Her partner is DJ-producer Mark Czuba, another former Eshod member whose handle is Madame Wang, who used to be a drummer in a punk band called Squirting Charlie and runs a label called Little Whore Records – "because every little whorehouse has to have Madame," he says. "That wasn't intentional. I just thought of that now."
Little Whore Records also represents the local East Indian rapper Karan Singh, who goes by Corvid Lorax (a raven + Dr. Seuss).
Clear enough?
They performed Thursday at The Artery to celebrate the release of Tzadeka's new CD, Piece de Resistance. Don't ask what it sounds like. An attempt was made with preview tracks in this space in May: "If Ani DiFranco joined the Disposable Heroes of Hiphoprisy … with the rhythm section from Soul Coughing and Tom Waits playing a one-string guitar," but that's basically just one song. This sort of thing must be experienced live to be believed.
These guys pick crazy names on purpose. In a fascinating yet predictable phenomenon seen in rock 'n' roll bands throughout history, the names of bands often reflect the personalities of its members, and therefore the music they make. These particular names are weird. Tzadeka's music is weird. Case closed.
"Our names have always been things that people have a hard time pronouncing correctly," Czuba says. "Even within the band, everyone always said 'Eshod Ibn Wyza' differently."
Vandergiessen says she could've picked something easy, like Catwoman, "but things don't always have to be easy for people …
"What we're doing, especially what Mark and I are doing, is very different than Eshod Ibn Wyza. But what is the same is that we're drawing from so many influences to create something new, something different."
For Madame Wang, the "mastermind" of this entire mad tea party, the road from punk rock to experimental electronica can be attributed to the five years he worked the graveyard shift at an area porno store. Between the few customers he serviced, so to speak – usually "guys in sunglasses and fishing hats buying gay porn" – he watched a vast number of the non-pornographic indie films the store carried, while listening to the Brave New Waves program on CBC Radio.
"I got hooked on the really experimental stuff, the really weird stuff," he says. "And after I got a four-track tape recorder, I realized I could do whatever I wanted."
Four track tape recorders, for those old enough to remember, used to be the big thing in indie recording, allowing bands with even the smallest budgets to make and release records. Computers made it even easier. And now, Madame Wang, Tzadeka, Corvid Lorax and all the other oddly-named projects under the Little Whore wing can basically go any direction they desire. Coming soon: A new album called Viva La Vulva from a new band called Acta Non Verba – a name, if you can believe it, that had already been taken by someone else.
"If they get big enough, we might have to change our name," Czuba says. "But I'm happy with all our names. I never regret anything I do."
He and Vandergiessen agree that the only downside of their nomenclatural eccentricity is that pretty much every interviewer asks about it. Obviously, this piece isn't going to be much help on that front.