FESTIVAL CITY SCORECARD – let's build a dome over Edmonton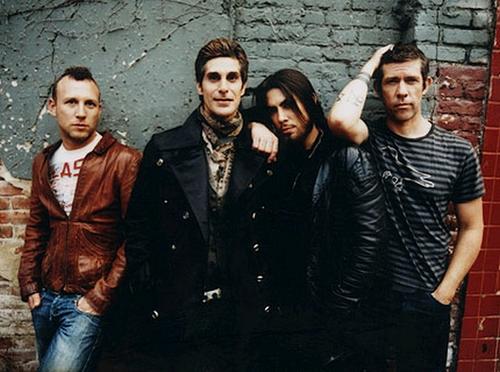 Consider that organizers of Sonic Boom might have actually been HOPING for lousy weather on Sunday, Sept. 4 and you'll get a sense how ridiculous it's been for outdoor festivals in Edmonton this summer.
Let's just build a giant dome over the city.
It in fact turned out to be a beautiful day while an estimated 9,300 Sonic Boomers were indoors, rocking out to such acts as Jane's Addiction (above), Metric and Cee Lo Green. Promoters moved the third annual modern rock festival from Northlands Park into the Northlands Expo Centre not because of poor advance ticket sales, as is often the case with such decisions, but because several parades were quite literally rained on this summer. The Street Performers Festival, Capital Ex and the Edmonton Indy were just three area events marred by woeful weather.
This comes on top of an unfortunate series of storm-induced stage collapses this summer. The one at the Indiana State Fair on Aug. 13 was the worst, claiming the lives of seven people and injuring dozens more. Three people were killed when a stage collapsed at the Pukkelpop Festival in Belgium two weeks ago. Fortunately no one was hurt when the stage went down underneath Cheap Trick at the Ottawa Bluesfest in July, nor a few weeks later at a Flaming Lips show in Oklahoma – but a whole lot of expensive gear was crushed in both cases. The Lips were just lucky the show hadn't started yet. Cheap Trick's manager told Rolling Stone magazine, "I can't believe we're alive."
Whether this is all coincidence, the effects of global warming or the result of shoddy safety standards isn't clear, but outdoor festival promoters everywhere are spooked.
"This wasn't an easy decision," says Sonic Boom marketing man Dave Johnston. "We really debated it. We had the Expo Centre as plan B in case of bad weather the entire time. We just decided to go with plan B a little earlier."
He adds that while this isn't a permanent solution and Sonic Boom will likely return to the great outdoors next summer, the Expo venue will allow an "improved and enhanced" version of the event, with maximum comfort to fans and no risk.
"There's a lot more we can do inside," Johnston says. "The production is going to be bigger and badder than ever."
The "festival experience" – the crowds, the dust, the mud, the sunburn, the hypothermia, the sights, the sounds, the smells, the lost shoes in the mosh pit – may not be a thing of the past, but it may come at a much higher price in the future.
Now that summer is basically over, here's a closer look at how several area outdoor festivals fared this year. The weather didn't kill all of them:
UTOPIA MUSIC FESTIVAL (June 17-18, Hawrelak Park) – Organizers of the closing event of Pride Week lost their pink shirts on this one. According to a reliable inside source, not even the artists received their full fees. What went wrong? The sucky weather is only partly to blame. The lack of headliner drawing power (Ani DiFranco and David Usher weren't enough) and the decision to not have a beer garden didn't help.
EDMONTON FOLK MUSIC FESTIVAL (Aug. 4-7, Gallagher Park) – This event is immune to poor weather, since it sold out months beforehand, and also because the folk fest rarely ever suffers poor weather. The theory that a coven of new age pagan Wiccans who live in Olde Riverdale cast weather spells to protect the event is being looked into.
CAPITAL EX (July 22-31, Northlands) – The event that almost entirely depends on walk-up suffered the lowest attendance since 2006 – the year the stupid decision to gas the Klondike Days theme was made. Capital Ex still pulls ahead as the best attended outdoor event of the summer in Edmonton, with 713,546 people clicking through the turnstiles, a drop of about 5% from last year. "Rainy weather" was to blame. The decision not to have the huge rock 'n' roll stage for "Edfest" turned out to be a good one.
EDMONTON INTERNATIONAL STREET PERFORMERS FESTIVAL (July 8-17, Churchill Square) – This festival is all walk-up – 10 days of buskers under the elements in Churchill Square – and therefore seems to have suffered the biggest loss in attendance "due to several days of rain." Still, it could've been worse. An estimated 190,000 people came out, down from 230,000 last year.
EDMONTON INTERNATIONAL FRINGE FESTIVAL (Aug. 11-21, Old Strathcona and various venues) – This is actually two festivals in one. One is outdoors with all the people watching, green onion cakes and Australian buskers therein. The other is much smaller, but the reason the festival even exists in the first place – the plays, which are all indoors. The former feeds the latter, however, and thanks to a more or less unbroken run of sunny days, attendance records were broken on both fronts: 576,000 outdoors and cracking 100,000 for indoor performances for the first time in the Fringe's 30 year history.
EDMONTON ROCK MUSIC FESTIVAL (Aug. 12-13, Hawrelak Park) – We can now properly call this the "first annual" event because there will probably be another one next year. Despite a relative dearth of mainstream media coverage –everyone was busy at the Fringe – the numbers were decent. Organizers say almost 2,500 people attended the two day event, 1,500 for the "Heroes of Woodstock" day alone – featuring bands like Jefferson Starship, Canned Heat and Big Brother and the Holding Company. Organizers report strong pre-sales due to competitive ticket pricing, and thank "perfect weather" for a healthy walk-up crowd.
EDMONTON'S LABATT BLUES FESTIVAL (Aug. 19-21, Hawrelak Park) – The weather may have actually been too good for this now-established event, especially if one is used to experiencing the blues in some dank bar instead of a beautiful parkland amphitheatre. Producer Cam Hayden reports that despite the 30 degree heat on the last day, the first aid staff issued just "six band-aids and three water bottles." The crowd count was around 8,500 for three days, which is in line with last year, Hayden says. He adds, "We had a full house, everybody had fun and nobody got hurt. That's the definition of a successful festival."
EDMONTON INDY/RACE WEEK EDMONTON (July 20-24, various venues) – Events on Friday, July 22, both at the track and at outdoor venues downtown, were literally rained out. The rest of the week wasn't much better. The festival portion of "Race Week Edmonton" still drew an estimated 43,000 people to the free events, which is actually up significantly from last year, though as Race Week spokesman Dean Heuman point out, "It was hard to tell how the weather affected attendance because we did so much more this year. It does hurt, that's for sure. We lost an entire day." He adds that it might be nice to move the entire thing to August next year.
Great idea! As long as we're dreaming of building a dome, let's just make August 30 days longer.
Festival City summer ain't over yet. Keep watching the Weather Channel as you prepare for the Symphony Under the Sky Festival, Sept. 2-5 in Hawrelak Park – with Ian Tyson performing with the Edmonton Symphony Orchestra on Sunday, Sept. 4. You can buy tickets here. Meanwhile, a short drive south brings you to the Beaumont Blues Festival Sept. 3-4. Colin Linden headlines on Saturday – and tickets are on sale right here.
Sonic Boom 2011 tickets are available at Ticketmaster. You can leave your rain coat at home.