TONIGHT: Edmonton's Mass Choir diversifies the thump at release party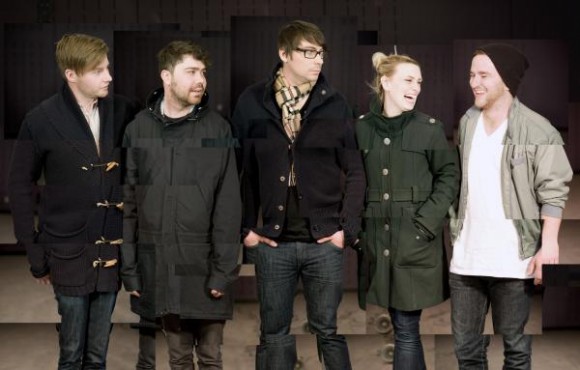 Back in February, Mass Choir main man Matthew Skopyk had already begun toiling for 40 hours a week on his band's next record, on top of his full time job in the University of Alberta's drama department.
Seven months later, Circles is ready to hit the streets.
Mass Choir will unleash its brand-new 15-track album with a show at the Pawn Shop Friday night, along with guests We Were Strangers, Summers Games, and DJ Dave Stone.
"It felt like a mad rush to get it ready, but it really turned out," Skopyk says.
The Edmonton band lit up college charts across the country with its 2010 debut My Life on the Backbeat, which mashed a nostalgic 90s dance sound with eighties synth-pop and modern indie rock.
Locally, the single Good Times (see video below) earned Mass Choir heavy rotation on Top-40 station Hot 107 FM, as well as a Band of the Month spot at modern-rock station Sonic 102.9 FM.
This time around, Skopyk relieved himself of full songwriting duties, letting his five bandmates add their own creative flair.
The result was a darker, dancier, more diverse record.
"(Circles) has the diversity of five or six minds instead of one mind," Skopyk says.
"This one went even more pop but it also went darker. It spread in two different directions, a little more extreme."
Don't worry, the 90s pop rhythms and dual male/female vocals (shared with Mary Hulbert) are still intact.
Skopyk says the band made sure to balance out its arty moments with simpler pop structures, and vice versa.
"Sonically, I think we've rounded it out a bit more, we've brought it more contemporary. But we've managed to keep the energy level and the happiness level and the whole fun factor of the 90s in there," he says.
Though he feels the band's sound should translate quite well to people of any musical taste, he's hit a wall trying to find likeminded bands to tour with.
As a result, Mass Choir has ditched its plans for a mega CD release tour, for the time being.
While Circles has big expectations to live up to in E-town, Skopyk (formerly of post-rock bands Por Nada and Fractal Pattern) is not too concerned about topping the success of My Life on the Backbeat.
"I think we hit pretty high on the first one, to be honest. And I'd be happy if we maintained that, because that was an amazing accomplishment," he says. "If we can get that again, that would be beautiful."
Friday, fans can expect to see new lighting rigs and new instruments, including a guitar that has been reworked into a "big midi controller" – revamped just enough to bypass the band's strict "no guitar" rule.
Even though much of its music is composed on computers, Mass Choir insists on playing everything live with no backing tracks, shaking the dance floor with keyboards, drums and good old-fashioned bass guitar.
After the Circles release, Mass Choir will get working on that tour.
"We'll get out as soon as we can," Skopyk says. "We're spoiling Edmonton, we're doing a lot of shows here."