Godsmack wants to give Nikki Sixx a good smack
Posted on September 1, 2011 By Albert Smith Music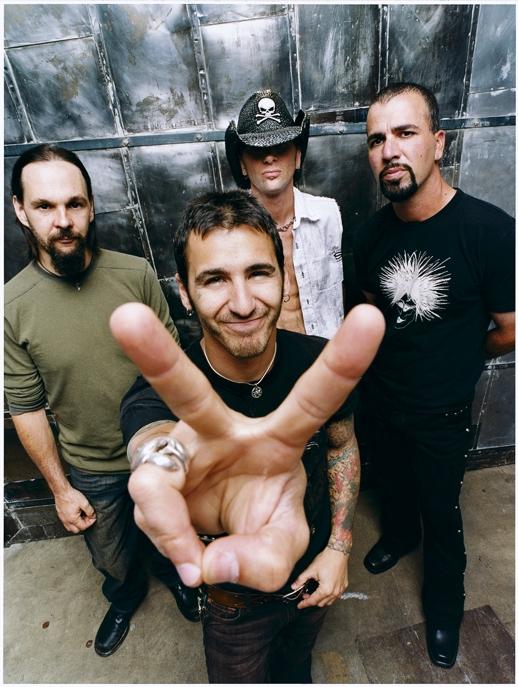 A little back-to-school heavy metal catharsis, anyone?
There's always one at the Shaw Conference Centre at this time of year, a show that taps into the despair, rage, frustration and general grim ennui inherent in the long trudge back to the three R's – now down two R's due to cutbacks in education funding, but rock shall fill the void, we hope.
In short, it could get angry. Be careful in the mosh pit tonight.
This year's designated back-to-school howl is hosted by the one and only Godsmack – whose name is not a slam on the Almighty, as far as we know, but whose ferocious, testosterone-fueled brand of "nu-metal" (which by now is the old metal) rarely fails to stir the temper. The Boston band that sounds a bit like Metallica at higher tempos brings a remarkable catalogue of blood-pumping, meatball hard rock anthems with them – and maybe a few chips on their shoulders, too. Just what we need right about now.
Let's have a closer look, shall we?
Time to dig up a rumour that the Godsmack song Cryin' Like a Bitch is a shot at Motley Crue, specifically Nikki Sixx, in the wake of various alleged rock star unpleasantness suffered during the last Crue Fest tour. Apparently someone acted like a real jerk backstage. Imagine. No names are mentioned and singer Sully Erna has stubbornly declined to point fingers, but he's pretty angry at someone. That much is clear. Nice how they worked their own band name into the lyrics: "You can run your little mouth all day, but the hand of god just smacked you back into yesterday." Nikki Sixx himself responded on his satellite radio show Sixx Sense: "I guess they had a bad time on the tour, so f*** them."
Then again, the video for the song (see below) seems to be about Ultimate Fighters, so who the hell knows?
Whiskey Hangover is another track from Godsmack's latest record, The Oracle – suggesting that not only is the protagonist an angry man, but a mean drunk. The song details a scenario familiar to those who know a mean drunk or two. By five sips of the sweet, sweet liquor, "I'm ready to fight all night … and then six, seven, eight to make me break your face sometimes." Nice.
One more: Love-Hate-Sex-Pain is a relatively more tender, Alice in Chainsy moment on the record: "And I wonder as I tear away my skin it's taken me so long to stitch these wounds from where I've been." Did this happen after getting into a fight with Nikki Sixx? We're getting into some pretty deep feelings here, apparently.
Compare the new songs above with the hit that launched Godsmack's career back in ought-two, Voodoo: "I'm not the one who's so far away, when I feel the snake bite into my veins. Never did I want to be here again, and I don't remember why I came."
As you can see, that doesn't make much sense, either – but hey! Why are we analyzing heavy metal lyrics for grammatical and continuity errors when there's a back-to-school metal show to prepare for? What are you waiting for? Buy your $50 tickets online right here, or at the door. Red Jumpsuit Apparatus will open.