Live Music This Weekend – Sept. 2 – 5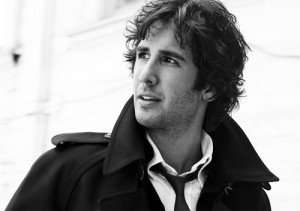 A banner weekend in live music is highlighted by the Sonic Boom modern rock festival on Sunday, along with its attendant after-party at the Starlite Room.
Friday
Josh Groban (right) – Rexall Place hosts American singer-songwriter Josh Groban on Friday night, whose four solo albums have all gone multi-platinum, and now boasts over 24 million albums sold worldwide. Rexall – 7pm, Sold Out.
Mass Choir – if you're looking for something totally different from Josh Groban, you may find it at the Pawn Shop, where local band Mass Choir is playing a CD release party with undisclosed guests. Pawn Shop – 9:00pm, $10.
Saturday
Brendan Kelly and the Pickups – Local singer-songwriter is playing a free show at West Edmonton Mall on Saturday. Kelly's sound is a mix of classic rock, with alternative and blues. NewCap Stage at West Edmonton Mall – 2:30pm, FREE.
Vreid / Kampfar / Necronomicon – the Pawn Shop moves from alternative rock on Friday with Mass Choir, to an early bill on Saturday featuring a trio of Norwegian black metal bands. Pawn Shop – 5pm, $10.
Symphony Under the Sky – Hawrelak Park will come alive Saturday evening with "Hollywood Favorites", as performed by the Edmonton Symphony Orchestra. Heritage Amphitheatre at Hawrelak Park – 7:00pm, $13.
Theresa Sokyrka – Born in Moose Jaw, Canadian singer-songwriter Theresa Sokyrka will be familiar to fans of Canadian Idol, as she was the final runner-up to Kalan Porter in its second season. Known for "scatting", even during Canadian Idol, the multi-instrumentalist also plays the violin, guitar, and piano. Her fourth album, an eponymous effort, was released last November on Maple Music. Zoe Francis opens. Haven Social Club – 8:00pm, $15.
Bomb Squad Rookie – the Starlite Room continues its efforts to showcase local talent whenever possible, with Edmonton alternative / melodic hardcore band Bomb Squad Rookie headlining a triple bill that also features The Aspresnos and Cloud Seekers. Starlite Room – 9:00pm, $10.
Sunday
Sonic Boom 2011 – now moved indoors to the Expo Centre on the Northlands grounds, the third annual Sonic Boom modern rock festival is sure to be the place to be this weekend, with raucous guitars and drums from start to finish. While headliners Jane's Addiction are inbound from Israel of all places, other performers include Canadian favorites Metric and Hollerado, as well as Social Distortion, Cee-Lo Green (CANCELLED, replaced by Christian Hansen and the Autistics), Cake, Manchester Orchestra, indie darlings Joy Formidable, and California's Middle Class Rut. Tickets officially start at $79.50 via Ticketmaster, but there's been some recent Groupon and Teambuy deals for just $35.
Sonic Boom Afterparty – after you've finished enjoying Jane's Addiction, head on over to the Starlite, where your ticket stub will get you in for free to the afterparty, featuring local favorites such as White Lightning, Weekend Kids, Sister Gray, Shelbi, Dualside, Heaviside, and more.