TODAY: Edmonton's Christian Hansen replaces Cee Lo Green at Sonic Boom 2011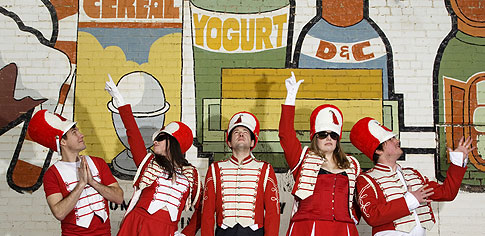 Bad news, everyone – Cee Lo Green, one of the most anticipated acts at the Sonic Boom Festival at Northlands Expo Centre on Sunday, Sept. 4, has been forced to cancel, promoters announced today.
The triple Grammy-winning soul singer is reportedly suffering from a herniated disc and can't travel.
The ensuing gap in the schedule spells good news for one local band: Christian Hansen and the Autistics (above), which will be filling in. It's a tremendous opportunity for the Edmonton-based dance-punk fusion band, whose critically acclaimed debut album, Power Leopard, came out in 2009. A second disc is expected this fall.
The other Sonic Boom headliners are still solid – including the legendary Jane's Addiction, whose singer Perry Farrell's throat problems forced the band to cancel two shows in the UK last weekend. He's feeling much better now, apparently, having played a show Tel Aviv, Israel last night to rave reviews. The band is currently en route to Canada.
Other headliners are Social Distortion, Cake and Metric, along with the bands Manchester Orchestra, Middle Class Rut, The Joy Formidable and Hollerado. It all gets going at 11 a.m. on Sunday.
Tickets are still available, online at Ticketmaster here or at the door.