TONIGHT: Ke$ha to get $leazy at Rexall Place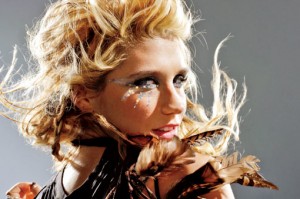 Britney Spears is too robotic, Lady Gaga is too bizarre, Katy Perry is too bossy – but when it comes to pop tarts we love to hate and hate to love, Ke$ha is JUST right.
Playing Wednesday night at Rexall Place on her Get $leazy Tour, this chick at least doesn't take herself too seriously – nor we suspect would have any problem referring to herself as a "chick." It's a sexy word, the distaff "dude," and what we have here is a sexy artist with songs so sexy you might need to wear a condom over your ears to practice safe listening. Her music is purposefully obnoxious, bratty like a spoiled pre-teen, catchy as hell and about as dirty as you can get away with on top-40 radio – and that's pretty damned dirty. Mommy, what's S&M mean?
Hey, as long as we're wallowing in $leaze, we might as well be up front about it. Now let's not forget: all this blatant sex, this vodka-infused bubblegum, these party-rock anthems extolling the virtures of one-night stands while crunk or drunk or both are all coming from a female perspective. This chick writes her own stuff. Oh, yeah, baby. Sex from the heart.
As she told the Toronto Sun 18 months ago, just when her star was starting to rise, as it were: "I have very empowering lyrics for women. I kind of take how guys talk to women all over this industry and throw it back at them. And they're all getting their panties in a wad, and I think that's hilarious. I'm literally just talking to a man the way any rapper talks about women in every rap song on the radio."
As we do every time at this point in an advance concert preview, let's go to the songbook:
After getting her start as a songwriter and back-up singer – even "helping" Britney Spears write some tunes – Ke$ha's debut single Tik Tok popped like a zit into mass culture in 2009, carrying all the hallmarks that we would come to know and love her for: The fizzy, candy-like dance grooves, the bratty delivery, the slutty attitude, the general "I don't care" feel of her entire oeuvre. She is a master, well, mistress, of the steamy rhyming triplet, thus: "I'm talking about everybody getting crunk (crunk)/boys trying to touch my junk (junk)/gonna smack him if he getting too drunk (drunk)."
Just an aside here: What is the difference between crunk and drunk? If any real rappers know, please comment below.
Moving on, Blah Blah Blah was a bracing follow-up, with its in-yer-face uber-brat chorus and its refreshingly direct approach in discussing the issue of potential lovers who like to talk a lot before they make their move – which is usually a complaint from the other side of the sexual divide. Ke$ha puts it bluntly: "Don't be a little bitch with your chit chat, just show me where your dick's at." Yikes!
The single burning up the radio at the moment is called We R Who We R: "I'm telling you about the shit we do. We're selling our clothes, sleeping in cars, dressing it down, hitting on dudes – HARD!"
Who in the world could be the audience for this sort of material? If you are a parent of little girls who aren't so little anymore, you probably already guessed it: Yet again we are about to bear witness to a young, hot, female pop star flaunting her sexuality not for men, but for an expected horde of young girls who will be hanging on Ke$ha's every word and screaming their heads off at Wednesday's show. This concert is not designed to titillate the opposite sex – it is designed for INSTRUCTION of the same sex. Hey little chicks: This is how you do it.
School is IN. Guys, beware. Parents, ditto.
With LMFAO opening, speaking of party rock anthems, tickets are $35 to $63 and on sale at Ticketmaster. Ke$ha will also be appearing at the after-party at Union Hall.