TONIGHT: Rollie Miles' grandson scores big gig at the Big Game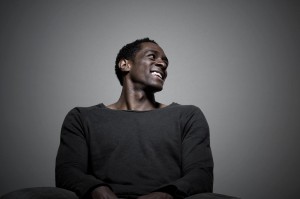 Jesse Lipscombe is scared out of his wits at the prospect of singing O Canada at Commonwealth Stadium on Friday – and that's just the way he wants it.
"Right now I am absolute fear mode," he says, "but I'm excited about it. I've never walked away from that kind of fear. Fear excites me. I have to do something every day that scares me."
Well, this will do.
This isn't just another gig for the Edmonton entrepreneur, actor, singer and one-time athlete. This is the Big Rematch between the Edmonton Eskimos and the Calgary Stampeders, and Lipscombe happens to be the grandson of Esks hero Rollie Miles. High expectations here. Moreover, this is Lipscombe's first time singing the national anthem at a sporting event. He was asked if he'd ever done it before – and immediately said yes.
He explains, "I'm an actor. Whenever anybody asks you: have you every rode a horse? Have you ever done martial arts? You say yes. In the meantime, you LEARN it. It wasn't a lie. I've sung the anthem before. Just not in front of so many people."
Though Lipscombe sings with a local show band called the Retrofitz, Sunday's crowd will be the biggest he's ever performed to. Up to 60,000 fans are expected. There will be no band to protect him, no backing music. Everybody knows the national anthem, or at least thinks they do. If he doesn't do it right, everybody will know.
Lipscombe says he's trying not to think of all the people who have screwed it up in the past: Rosanne Barr, Carl Lewis, Steven Tyler, Christina Aguilera, their names will live in anthemic blooper infamy. One of the funniest was lounge singer Greg Bartholomew singing O Canada at a CFL exhibition game in Las Vegas in 1994. He remembered the words, more or less, but he sang them to the tune of O Christmas Tree. Then there are stars who twisted their respective national anthems beyond recognition. Marvin Gaye's Sexual Healing-like take on the Star Spangled Banner at the NBA All Star game in 1983 will go down in history as one of the strangest – and longest – versions ever. Stephen Colbert and Michael Buble sang a duet of O Canada to the tune of the Star Spangled Banner at the Vancouver Winter Olympics. And William Shatner's version of O Canada, done in honour of his Governor General's Lifetime Achievement Award, ranks right up there with his reading of Rocket Man.
Lipscombe says he'll sing it pretty straight on Friday, and while he says he's got a little twist planned, it's not going to be anything crazy. Besides, he was raised more on Broadway than R&B.
Here we see a breathless list of accomplishments: Holds degrees in psychology and neurobiology from Morehouse College in Atlanta, Olympic-level high jumper, pro football contender, personal trainer and founder of the P.H.A.T. Training Inc. fitness studios (one in Edmonton, one in St. Albert), restaurateur (Sabor Divino's) and recently a car salesman who's writing a book about "how selling cars saved my company" – but what he'd really like to do is be an actor. Film credits include the 2007 feature "Resurrecting the Champ" with Samuel L. Jackson, and the AMC series "Hell on Wheels" airing this fall.
One might ask at this point: Is there anything this guy can't do?
Sure, some of this is due to both the good genes and wise investments of his famous granddad, but there's more to it than that, the 31-year-old Lipscombe says.
"I grew up with the attitude that you can do whatever you want to do," he says. "My grandparents did it in a time where things weren't necessarily friendly for them. They came from Washington, D.C., and they came up here because it just a friendlier place for African Americans at the time, so they were behind the eight-ball and they were kicking ass. If they can kick ass – we can all kick ass. It was never about money. It was about the idea that if you want to do something, you work on it and you get it done."
He'll approach his impending two minutes of fame the same way. The aforementioned Christina Aguileras and Greg Bartholomews do this sort of thing all the time. For Lipscombe, this is something different, something special.
He says. "I'm not going in there thinking this is another day at work. This is an awesome opportunity. I don't imagine a screw-up's going to happen, but I'm going to be prepared. I've been practicing every morning on the way to work. A cappella with no music – that's scary."