TONIGHT: Synth duo Junior Boys keep it in perspective at the Starlite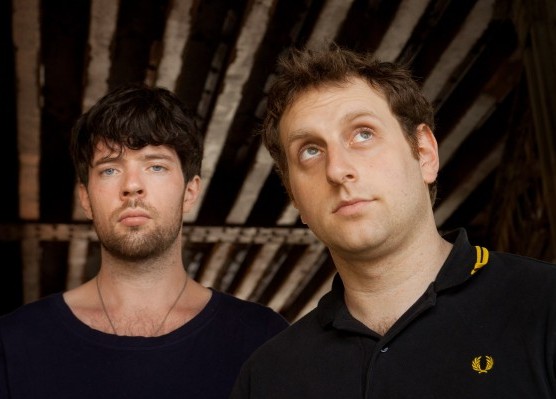 The Junior Boys' latest effort It's All True is somewhat of an international project – Matt Didemus of the Hamilton-based synth-pop duo lives in Berlin, and frontman Jeremy Greenspan wrote some of the album while in China.
On tour, however, the strength of their live set relies heavily on an Edmonton native.
"We go through really elaborate ways of making sure everything sounds really good. Unlike a lot of electronic music, everything goes individually out to our soundboard. So our input list is really, really huge. We always say the star of our show is our sound man," Greenspan says.
The band tours with local sound man Jason Borys who Greenspan says is "the best sound guy working alive."
You can be sure the Junior Boys will get the most out of their guitar, arsenal of synths, and electronic drums (played by touring member Dale Butterfield from B.C. band Circle Square) when they play the Starlite Room on Wednesday (Sept. 14).
Likeminded Vancouver trio Young Galaxy will open the show.
Greenspan knows getting the right sound out of your equipment is key for any electronic act, even one as melodic as Junior Boys. He might even give his musical toys a little too much credit for the boys' melancholy, laid-back jams.
"In electronic music, you're more of an editor than you are a musician. Because a lot of the times you rely on your equipment to make musical decisions for you," he says. "So your role as a musician is to try and figure out which of those decisions are good ones and which ones should be discarded – when is your equipment being inspired and when is it just doing something stupid and non musical?"
It's All True is inspired by a failed Orson Welles documentary of the same name, as well as other works by Welles, who Greenspan became infatuated with during the writing process.
Channeling the spirit of late artists for inspiration is nothing new for Greenspan. The previous Junior Boys album Begone Dull Care, for example, was a concept album based on National Film Board animator Norman McLaren.
"It's a way for me to find people that I identify with. And a lot of times I identify with them because they're not musicians; because in their cases, they're visual artists or filmmakers or storytellers or whatever," Greenspan says.
"To try and understand your role as an artist, or as a creative person if that's what you do for a living or that's how you spend your time, it's hard for me to think about myself that much without seeming indulgent.
"So to me, it's really helpful to think about these great people who were doing things that I aspire to do."
The singer/guitarist/keyboardist also found inspiration in China, where he visited his sister as he worked on the album.
"I went there but I didn't have the time to not be working, so I thought I would bring some stuff with me … I became inspired enough to include some Chinese instruments and include, to some extent, the things that I was thinking about while I was in China," he says.
"It was a great experience because it was a very good reflective place. Because you're surrounded by a culture that's totally foreign to you, and that's totally modern but not westernized. So that was really interesting for me.
"It gave a great sense of the irrelevance of what I obsess over, or about the irrelevance of the music industry's problems in the grand scheme of global culture. So that was great."
Junior Boys will continue their globetrotting ways as they hit the festival and showcase circuit in Europe this fall and tour South America in the new year.