A boatload of unhappy memories in Titanic exhibit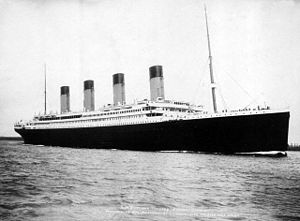 There's no other way to describe it: it's a Titanic show.
Telus World of Science will feed the public's continuing morbid fascination with the world's most famous ocean liner disaster, beginning Oct. 8, when Titanic: The Artifact Exhibition begins a limited engagement.
It's a touring show of 200 items from the legendary shipwreck. Titanic — which its engineer had bragged was unsinkable — struck an iceberg off the coast of Newfoundland in 1912. More than 1,500 people died, notably due to an absence of adequate life rafts. That unsinkable confidence, it turns out, really was a downer.
The big upside? This exhibition pays particular attention to the people who died, connecting people with their stories in a nicely humane touch.
"The Exhibition has been designed with a focus on the legendary RMS Titanic's compelling human stories as best told through the authentic artifacts recovered from the wreck site of Titanic and extensive room re-creations.  Personal effects of passengers and crew, pieces of the Ship itself, like the Ship's whistle, even a small and delicate Canadian postage stamp will be featured– these and many other authentic objects offer haunting, emotional connections to lives abruptly ended or forever altered," the centre said in a release.
" Visitors are quickly drawn back in time to 1912 upon entrance, as each receives a replica boarding pass of an actual passenger aboard Titanic. They then begin their chronological journey through the life of Titanic, moving through the Ship's construction, to life on board, to the ill-fated sinking and amazing artifact rescue efforts.  In the "Memorial Gallery" guests will take their boarding pass to the memorial wall and discover whether their passenger and traveling companions survived or perished."
The 15-year-old exhibit has been seen by more than 22 million people worldwide.