Edmonton Comedy Festival to 'keep it clean'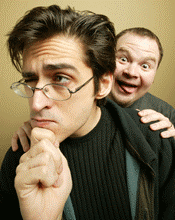 It has been said that it's easier to clean up a dirty joke than it is to dirty up a clean one.
Or is it the other way around?
Never mind. The point we're trying to make here is that the Edmonton Comedy Festival, happening Oct. 19-23 in venues across the greater metropolitan area, is going to be pretty well free of gratuitous F-bombs. Details for the "first" annual event – there will be at least two more, since the title sponsor ATB signed a three-year deal – were announced Thursday.
Artistic director Andrew Grose says, "I believe that if you need to rely on profanity to get the punch, you need to rewrite the joke."
Encompassing the varied forms of live comedy – stand-up, improv, musical comedy and sketch – the five night event will feature headliners like Joe Flaherty (SCTV alumnus, master of sketch and improv), Mike Bullard (former talk show host, a whiz at audience interaction), John Wing (seven appearances on The Tonight Show) and Gerry Dee (star of upcoming CBC sitcom and voted Best Comic in Canada), along with a who's who of Edmonton and Canadian comics, actors, musicians and improvisers. They include (click on the name to read our exclusive Giggle City interviews): Ken Valgardson, Debra DiGiovanni, Paul Sveen, Tim Koslo, Lars Callieou and more.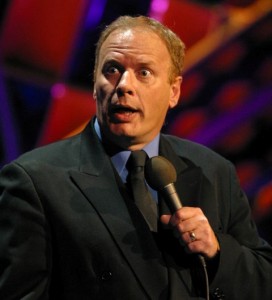 Grose even managed to book the Unknown Comic. Yes, that guy with the bag on his head from the Gong Show in the '70s. "It took some time to track him down," Grose says, but he's still working, whoever he is.
Important disclaimer: Just because you're not going to hear F-word every second line doesn't mean these are all G-rated events. Grose offers the following bit he heard recently as an example of an off-colour joke that's still clean: "Pedophiles aren't all bad. For example, they never speed through a school zone." Don't say you weren't warned.
Grose seems to be on one-man crusade to clean up an industry that's become dirtier every year. He's a stand-up guy himself, a 20-year veteran of the comedy stage and used to working clean, even more since he landed his gig with 630 CHED. He's even conducted free workshops to help some of dirtiest comics realize that they're not really dirty, they're just lazy.
Two things have contributed to the slippery slide to profanity in comedy clubs, he says. One: "Comedy started in dingy basements, with overpriced, watered-down drinks and quite an array of talent. You could see somebody really fabulous next to somebody really awful. And to be honest with you, it hasn't progressed much." As a result, he adds, the best comedians and their connoisseurs have moved into theatres.
Which leads to the second point: there's been so much comedy on television that the clubs have "gone even dirtier" – which of course brings us back to the original point, which has already been made: They're keeping it clean here.
While the heart of the Edmonton Comedy Festival is its stand-up component, Grose and the other organizers have reached across the Great Comedy Divide to embrace the theatre crowd – featuring talent from Edmonton companies like Rapid Fire Theatre and Atomic Improv.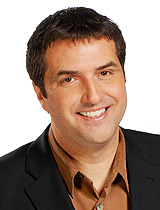 Two years ago, Grose says, "I didn't even know these guys. They make their living pretty much in the same industry as I do and I'd never met seen any of them. And I've got tell you: I loved them. The mentality of those other types of comedy is so much different than stand up. They admire and respect each other, they promote each other. Stand up is not like that. It's very self centred."
Tickets are on sale now (here) for all events, including the closing "Sidetrack Cafe Reunion" on Oct. 23, celebrating the live comedy nights that happened at the late and lamented local venue back in the day. Details will be announced soon. K-97 announcer Bill Cowen – who used to do stand-up – will be coming out of retirement for one night, Grose says, along with the possibility of a set from Edmonton Comedy Festival president Graham Neil from CFRN. Grose can't resist a shot: "He does stand up comedy. Does he do it to the level that he would get in into the festival if he wasn't the president? That's the million-dollar question."