Maroon 5 a blue-eyed soul band in pop clothing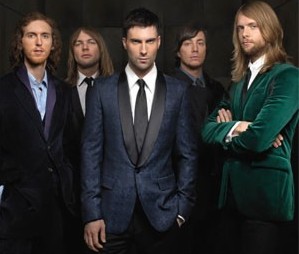 In a sense, Maroon 5 has been pulling off an enormous con job ever since hitting the scene early in 2002 with the band's mega-hit This Love: it pretends to be a pop band, when it's all about the soul music.
The band, which played Rexall Place Saturday night, is topping the charts again with the straight-up disco single "Moves Like Jagger", which frontman Adam Levine got to plug in the successful first season of reality TV show The Voice (See video below).
Even a cursory look at less popular tunes, like the poignant "Back at Your Door" or the slow and sultry "Tangled" shows that Maroon 5 is, in essence, a soul band. Levin has admitted as much by saying the band really took off after it adopted a new R&B approach back in the 1990s, before it was even called Maroon 5.
Oh sure, it's a bunch of white kids, but that crap doesn't mean anything anymore culturally, right? It's a big old melting pot, and Adam Levine has some straight-up Motown style pipes. Of course, there's a lot of modern R&B influence in what the band does, and even a little old-school blues. This guarantees it a catalogue well beyond Maroon 5's handful of hits, which bodes well for sticking around.
But it also has to be said that Maroon 5's popularity has been helped by some of the bands weakest cuts, pop detritus like "Won't Go Home Without You" and "She Will be Loved". And the aforementioned "Move Like Jagger" would sound sweet without the autotune. It's getting really old, that trick.
Still, the single is huge. "It's a fun song, and I love having it be fun," Levin recently told US. "It's okay to release fun songs, as long as they're good ones. And I like the fact that it's kind of a carefree dance tune, which is a huge part of our sound, we love those moments."