THEATRE: New season ahoy!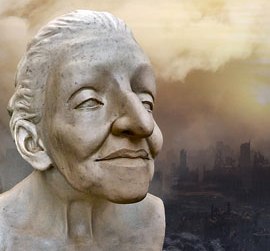 From Fringe summer to subscription winter, the rhythms of live theatre in Edmonton are as predictable as a horse on a high fibre diet.
No, that's not the best image to go with some of the finest thespianism in Canada, but it just came out. Remember one of the cardinal rules of improv: what is said cannot be unsaid. Speaking of which, while the brave improvisers who participated in the annual Die-Nasty Soap-a-Thon over the weekend are sleeping the sleep of the just after 50 straight hours of campy camp, theatre-goers are gearing up for another exciting season.
Here's a look at some impending shows:
HEROINE: This Northern Light Theatre production that opens Thursday at the Varscona Theatre deals with both pirates and women behind bars, two favourite themes, to be sure. It's a yarn about Anne Bonny and Mary Read, two scurvy female pirates who plundered Spanish galleons on Caribbean Sea in the 18th Century. The story takes place after the pair were imprisoned and sentenced to hang. Blurb says this play "invades the final moments of captivity and connection between these two remarkably passionate women," so their ultimate fate remains uncertain. No spoiler here. Runs to Sept. 24.
PENNY PLAIN: There is only one thing creepier than a puppet which takes on a life of its own beyond its puppeteer – and that's several puppets that take on lives of their own. Opening Saturday night on the Maclab stage, Ronnie Burkett's Theatre of Marionettes kicks off the new Citadel Theatre season with this "apocalyptic gothic comedy" that is NOT suitable for children. The title character is a blind old woman waiting for the end of the world. Plays through Oct. 9.
THE IMPORTANCE OF BEING EARNEST: A gay time is promised to citizenry attending the opening of the new Capitol Theatre in Fort Edmonton Park, to be home to musical entertainments, photo-plays and this amusing theatrical trifle by popular play-wright Oscar Wilde. His beloved farcical stage-show figures varied protagonists who adopt fictitious personae to escape burdensome social obligations, with predictably droll results for all. Plays Sept. 17, 18, 23, 24 and 25.
[SIC]: There may be shades of Seinfeld in this Catalyst Theatre season-opener about three eccentric 20-something slackers – a composer, a writer and an auctioneer-in-training – who are thrown together as neighbours in small apartment building. The New York Times called this Melissa James Gibson play a "verbally dexterous and neurotically wise comedy" when it opened in 2001. Runs Sept. 21-30.
DOUBT: Another proven play (winning both a Pulitzer and a Tony) set in New York City, this U of A Studio Theatre drama deals with tensions in a Catholic school, whose principal (and older nun) accuses an easygoing young priest of sexual misconduct with a student. Runs Sept. 21-Oct. 1.