Kori Wray auditions for Canada's Got Talent – and now she waits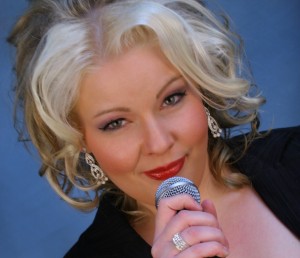 Kori Wray is an old hand at TV talent contests.
The Edmonton singer made the top 100 on three different seasons of Canadian Idol, was on PopStars and went to Nashville as part of a Canadian talent and model search – and now she's a hopeful for the inaugural season of Canada's Got Talent. Edmonton auditions took place Wednesday and Thursday at the Mayfield Inn and Suites. Wray sang on Thursday. Now she has to wait until Sept. 30 to see if she made it to the next round.
"If we get picked we go to Calgary!" she posted on her Facebook page.
Canada's Got Talent is modeled after the American (British, actually) version of the show, complete with the Gong Show-like "three strikes" rule – the streak of cruelty crucial to any successful reality show. It all starts with an open casting call. Anyone of any age with any talent and any level of professional experience whatsoever can show up and do his or her thing, whatever it is: Singing, dancing, juggling meat.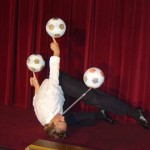 The variety element instantly gives this show the potential to be 100 times more entertaining than Canadian Idol, which folded in 2008 because it was awful. So is American Idol, for that matter.

No matter! The same production team gets to try again: Cool-hatted producer John Brunton (left) and the Insight Production Company. The first wave of auditions swept through Winnipeg on the weekend, and after Edmonton, the team heads to Vancouver, Toronto, Montreal and Halifax. Producers will be back for the more elaborate second phase of the auditions with finalists (both good and, we hope, comically bad) to perform in front of the TV judges, whose identities will be revealed shortly. The show is set to air on CityTV in March 2012.
Kori Wray, being a professional musician, was one of the privileged few who were pre-screened and INVITED to audition – but she still knows the grueling TV talent contest experience well.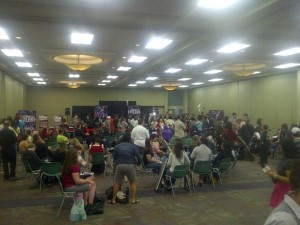 "Every competition you do strengthens your character," she says. "It takes a lot out of you. You're there for hours. That's what they want. They want to exhaust you. They want to see how you do under pressure. With Canadian Idol, I had to sleep in the mall, and then I had to get up and compete. You wonder if your voice is going to be OK, because you're not sleeping and not taking care of yourself like you normally would. Most people can't do it. You have to be incredibly strong. I practice every day, three to five hours. This is all I do. This is a career goal for me regardless. If I don't make it this way, I'll make it another way."
Like many singers who dream of being a star, Wray was lured by Nashville and wound up cutting a country record, though she says R&B is her passion. Asked if such genre-hopping might undercut her credibility as an artist, she replies, "As an artist, you don't know what direction to go. You don't want to give up an opportunity. You have to go with what you're presented with. That doesn't make you a bad person, a bad artist. With me, I can do multitude of different genres."
While she probably won't be going back to Nashville – working now with local soul star Jeff Hendrick – Wray wouldn't trade the experience.
"It was a learning curve. It made me who I am now. It made me a stronger person."
That's right: What doesn't kill you makes you stronger – even being put through the ringer of a reality show. Good luck, everyone.