After 11 years, urban DJ Arlo Maverick rides into the sunset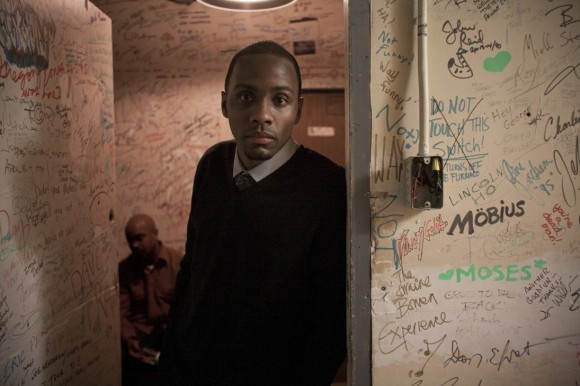 For 11 years, Marlon Wilson has been Edmonton's go-to guy for fresh urban sounds.
This month, the Politic Live emcee will bid farewell to The Urban Hang Suite, his weekly Saturday night radio show on CJSR 88.5 FM.
The Suite will air one final time from 11 p.m. Sept. 24 until 3 a.m. the next morning.
Minister Faust will host the four-hour sendoff, which will include interviews with Wilson as well as guests Souljah Fyah, Fendercase, poet Ahmed Knowmadic and former co-host Ms. Trish.
Wilson, known on-air as Arlo Maverick, took over the coveted spot on Sept. 2, 2000 from DJ Tanner, who left his cleverly-named hip-hop showcase, Full House.
Wilson was not as much of a hip hop head as Tanner, but he found a way to sneak in all his favourite tunes under the "urban" umbrella.
Wilson regularly spun rap, soul, reggae, R&B, folk and calypso music.
"I initially didn't want to do a hip hop show. I essentially wanted to do a soul show because I've always been a bigger fan of soul music than hip hop music. I love hip hop but I really like soul music and R&B music," he says.
"But the time slot was something that was traditionally known for hip hop, so my approach was to take this thing and make it sort of like one of those old-school R&B/jazz vibes where people come in and it's just like one big party."
His biggest mandate was to make the show a launching pad for independent artists.
Wilson always gave local and Canadian acts as much airplay as possible, because as a musician, he knew how tough it was to get on the airwaves.
Prior to the Urban Hang Suite, he says, no shows consistently played independent urban talent from Canada, let alone Edmonton. He not only stacked his show with indie acts, but put them up against established favourites.
"We weren't segregating Edmonton acts to a specific hour or a specific time slot," he says. "It was being mixed in with Jay Z, it was being mixed in with Lupe Fiasco or whatever. They were on the same plateau."
Wilson went several steps further than giving local artists much-needed airplay.
He would often take new musicians into the studio to show them around, and he would chase down and hound artists when to give him their latest songs when necessary.
"A lot of times urban music artists don't understand how important campus radio was to the success of artists like Lupe Fiasco, or A Tribe Called Quest, even Kardinal Offishall and the Rascalz. At the end of the 90s and early 2000s, a lot of Canadian artists were getting signed off of campus radio rotation," Wilson says.
"The network that's there within campus radio is so strong. When you look at Cadence Weapon, he had a lot of success with campus radio before he became the star that he is now."
Wilson says the Urban Hang Suite enriched his life in many ways through meeting people, watching artists grow, and learning about the music community.
He also got to interview high-profile artists like K-OS, Classified and Choclair.
But his favourite part was the free music.
"When people see me as a champion for Canadian or Edmonton-based urban music, they may wonder why," he says. "But if they had the exposure that I had to it, I think they'd be just as proud and just as boisterous in the sense of letting people know this is what our country has to offer."
As he moves on to focus on his personal life, his schooling and his own music, Wilson is leaving his time slot in capable hands.
Hip hop/R&B show Evil Petting Zoo will move up from the 3 a.m.-to-6 a.m. slot into the Suite's midnight-to-3 a.m. space.
Wilson is working with the show's hosts, DXL and Thero, on bolstering their Canadian content so the artists most in need of exposure don't get left in the dust.
"When you listen to the production value of their show, it's a show that I've always had a great deal of respect for. These guys put their time into it and I think that they're far more deserving of that time slot than I am," Wilson says.
"In the last little while I haven't been able to give my all. It's a big responsibility to have, and I think that if I'm not able to be there entirely, then I need to step back and let someone else come in."