Greg Wood gets an extreme sports boost for third CD
Posted on September 15, 2011 By Andrea Scharner Music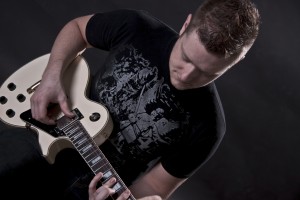 When extreme sports videos start using your tunes and the sound you were shooting for was "adrenaline soaked," it must be a sign you're on the right track.
Greg Wood has been working the local and regional club scene for years, refining material, developing a heavy rock sound and working on his songwriting. But his growing local support base is in for some surprises on his new CD, which he debuts Sept. 24 at The Dungeon, 13120 97 St. It gets away from the Seattle-influenced grunge of his first two CDs, he promises (and on the night in question, he's playing acoustic.)
"It's a much bigger production than anything I've attempted before, my influences have changed and the experiences of success and sorrow over the past couple of years will all play a role in the sound of this album. I think people will be blown away, because it's not the Greg Wood they from before…rather something bigger, darker, yet more hopeful. It's my most flat-out, adrenaline-pumping work yet."
Adrenaline is a theme for Wood lately; five of his songs have been picked up to be used in an extreme snowmobiling video, Thunderstruck 10, which is also getting a local premier Saturday at Bo Diddley's on 118 Ave. at 142 Street. The fun starts at 6 p.m., showtime at 8 p.m.
Wood has decided the road to a long-term career lies in building a touring base, rather than trying to navigate the impossible chamber of lost souls that is Canada's FM landscape, content to get airplay where he can and let word of mouth keep him hitting stages coast to coast. He figures there's precedent.
"Getting a wide audience of people to like your music, and getting it on commercial radio are two completely separate battles in the same war. People obtain new interests in music many different ways and a good product will find its way into the hearts of the masses without the help of radio," he says.
"Getting your music onto Astral media(The Canadian Radio Giant)'s stations require that you are signed to a major label and that your song makes it through a testing phase where they have a random test group of about 100 people in a room listening to 20 second clips of songs rates your song highly against the other songs they are testing. The same goes for all songs! In other words it's a long shot!
"It all seems like enough reason to give up doesn't it? Well Steve Earl never cared, nor do I! I plan to keep honing my skills as a song writer, while working hard to put myself in the best studios with the best team of people around me, so I am always improving the quality of music that I produce."
Advance tickets to the The Greg Wood CD party, with Jade Gervais & Edmonton Music Awards nominee singer-songwriter Ky Babyn can be obtained through 780-722-3903. Tickets are $15 adv / $20 at door and include a FREE copy of thge brand new release, "Greg Wood III".