THEATRE: Comely wenches cross swords, egos in Heroine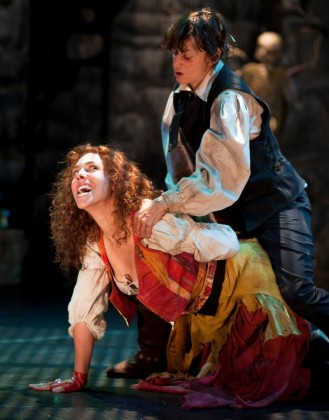 Ahoy, mateys: Thar be something mighty fishy about Heroine – a ripping yarn about a pair of comely wenches what pillaged the high seas in the misty days of yore, got scurf'd to the brig and marked with the black spot for a date with the hempen halter.
The play about female pirates opens Friday at the Varscona Theatre.
As we stow the pirate talk, director Trevor Schmidt describes Heroine as "Thelma and Louise with swords." He says he likes the idea that this is a play "about two women who are quite strong – and they're not fighting over a man. That's a fairly limited depiction of women and it also assumes a woman is not complete without a man. So they're early feminists."
In short, there will be no "booty" jokes here.
Heroine is a SERIOUS exploration of real and rare historical figures: Anne Bonney and Mary Read. There weren't a lot of female pirates, and this is the only recorded instance of two of them having interacted with one another – having been caught, thrown into a Jamaican jail and sentenced to hang. This much is known, Schmidt says: One disguised herself as a man and rose up the ranks of the British Calvary. The other was a rich girl from the American South. Both claimed to be pregnant to avoid the hangman's noose. One died, and one got away – never to be heard from again.
Fiction takes over in this Northern Light Theatre production of playwright Karen Bassett's tale – starring Lora Brovold and Natascha Girgis. The audience gets to be a fly on the wall in their prison cell. Swords and egos clash.
"They didn't get along," Schmidt says. "They fought aside each other, but there's a rivalry, a competition that's going on between them. One of them is resigned to her fate and the other says, 'I'm getting out of here and you're going to help me.' One is more concerned about her reputation. The other is concerned with her neck."
The fishy part is this: We call them "Heroines" and early feminists while overlooking the fact that pirates were generally horrible human beings. They were criminals. They murdered and raped and pillaged and plundered. Obviously these are the same sort of scurvy dogs we romanticize today: Murderous mafia gangsters, crack-dealing gangstas, bullying outlaw bikers. But maybe our fascination for scoundrels lies beyond their criminal behaviour.
Schmidt says, "I guess it's because they're doing things we keep ourselves from doing – riding the wide open seas and being free."
Just one thing to add at this point: Arrr …