TONIGHT: The Notorious Vince Neil expected to rock the EEC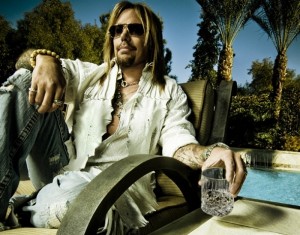 It must be tough to be a 50-year-old rock star whose very name has become synonymous with excess, overindulgence and general rock 'n' roll decadence.
Imagine the inner dialogue: Oh, Christ, not Dr. Feelgood again … Do I really have to swig that bottle of Jack Daniel's? My freakin' liver's gonna explode … I don't feel like trashing the hotel room tonight … all you groupies, get the hell out of here, you look like I feel … Man, now I have to pee again …
Aw, just kidding! Say hello to Vince Neil, everybody! One of rock's most notorious frontmen is apparently still going strong, at the Edmonton Event Centre Friday night (tickets here). He's touring behind his new solo album, Tattoos and Tequila, and the companion autobiography, Tattoos and Tequila: To Hell and Back with One of Rock's Most Notorious Frontmen. It's all right there in the title. Didn't get a chance to read it yet, but judging from some Amazon reader reviews, it's clear that this tome will not be in the running for the Pulitzer Prize, that the word "like" is used a lot in what reads like interview transcriptions, and that there is little revealed beyond what was covered in the 2001 book Motley Crue: The Dirt – Confessions of the World's Most Notorious Rock Band.
There's that word again: "adjective: widely and unfavourably known."
The title track of Vince's new record (see vid below) is a basic mid-tempo hard rock anthem about getting drunk and having sex with some unnamed skanky chick. Hey, write what you know! Here's a couplet that contains a nice double-entendre: "There's a bottle pointing right at you/bottoms up girl, you know what to do." The chorus also spells it out nicely: "Come on take your clothes off, you really need to/Baby do a sweet dance, I wanna see you/Show me all your tattoos, and drink my tequila."
Let's hear it for artistic growth.
It's hard to know how much of this is an act, how much of it is perpetuating the hard-partying persona to keep fans from falling away. Neil told me way back in 2004 that it would be "lame" if people expected aging rock stars to carry on like they did back in the day. He added, "It isn't what people think it is."
And there's the Catch 22 with Vince Neil's gig: If it ain't real, it could be weak; and if it is real, it's dangerous … for a 50-year-old man.