WEEKEND MUSIC UPDATE: Library Voices fresh from the Farm
Posted on September 16, 2011 By Michael Senchuk Front Slider, Music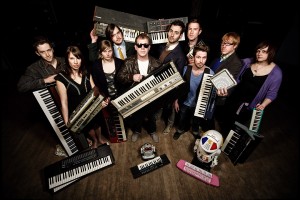 The fall concert season roars into Edmonton this weekend, with solid choices all around:
FRIDAY, SEPT. 16
Expressionz Cafe Birthday Gala – The popular "school of life's" annual bash will be hosted by comedian and musician Kevin McGrath, with other performances from The NEK Trio, Karen Porkka, and the Little Big Garage Band, 7 p.m., $30.
Mae Moore – The Northern Lights Folk Club presents this renowned singer-songwriter, whose latest release is "Folklore." Carry Day opens. Queen Alexandra Hall, 7 p.m., $18 advance, $22 door.
Christian Hansen and the Autistics – Fresh off a last-minute and stellar performance at Sonic Boom 2011, these guys play for college kids at the Dinwoodie Lounge (SUB, U of A campus). Opening is perhaps the best live band Edmonton has to offer, Cygnets. 8 p.m., $18.
Slackers – this 20-year-old band from New York City has more influences than most people could count, combining ska, reggae, rock, blues and soul. J.K. and the Relays and Edmonton's own Soulicitors open. Pawn Shop, 8 p.m., $25.
Robin Woywitka – The Haven Social Club is hosting a CD release party for this Saskatoon singer-songwriter. Its title: "The Impossible Addressat." Crestwood opens. 8 p.m., $10.
Vince Neil – the notorious Motley Crue frontman is in town to kick-start our hearts. Earplugs recommended if you want to hear anyone or anything the rest of the weekend. Edmonton Event Centre, 8:30pm, $27 and up.
SATURDAY, SEPT. 17
Garnet Rogers – giant among men, literally (he's 6'6"), this folk hero has been performing and recording albums since 1984. His most recent was a live album in 2007 called "Get A Witness Live". The multi-instrumentalist plays guitar, mandolin, violin and flute. Haven Social Club, 6 p.m., $20.
Library Voices – While The Sheepdogs may have earned the Rolling Stones cover slot, the seven-piece Library Voices have not so quietly created a buzz for themselves that likely surpasses any other Saskatchewan band. Two extraordinary performances at Calgary's Sled Island have propelled them onwards and forwards, and they were recently featured on Sonic 102.9's new music program "Farm Fresh". With Edmonton's own Provincial Archive opening, this may be the "can't miss" gig of the weekend. Pawn Shop, 6 p.m., $13 advance, $16 door.
Se7ensided – An all-Edmonton bill at the Starlite Room finds this sweetly-melodic rock band headlining a CD release party, with One Day Late and One Way State as opening acts. The band's last album found airplay across prairie radio stations. Starlite Room, 9 p.m., $10 advance, $12 door.
SUNDAY, SEPT. 18
Wake – Calgary's hardcore heroes headline a CD release show at the Pawn Shop Sunday night, featuring tracks from their debut full-length "Leeches". KEN Mode and The Dead Cold open. 8 p.m., $10.
Arch Enemy – The Swedish death metal band is making its way across Canada – landing at Edmonton Event Centre in our town. Devildriver opens. 7:30 p.m., $43.75.