Pearl Jam Week declared in Edmonton – on screen and stage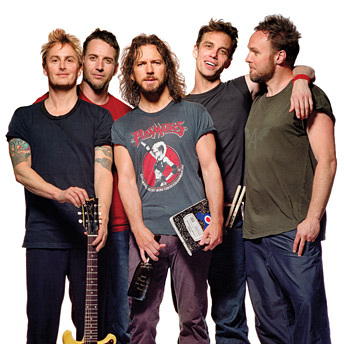 The new Pearl Jam documentary Twenty is opening the Edmonton International Film Festival (EIFF) on Thursday – which just happens to be a day off for the band before they play Rexall Place on Friday.
Coincidence? Probably. Will members of Pearl Jam actually show up at the screening? Probably not.
Sources close to the band say they're "notorious" for NOT doing these sorts of things. They're still striving to be the ultimate anti-rock stars, apparently, which makes them even bigger rock stars than ever. It is said they avoid red carpet events like the plague and the press like a lesser plague. Still, there are pictures to prove that Eddie Vedder came to the world premiere of the Cameron Crowe documentary about his own band at the Toronto International Film Festival (TIFF) earlier this month – so we can hold out hope. One thing is clear from their countercultural leanings: Eddie and the gang are more likely to come to EIFF than they are to Cineplex's "One Night Only" screening of Twenty on Tuesday night, which will be filled with radio personalities.
Also, they'll be in Saskatchewan on Tuesday.
So the rumour starts here: Pearl Jam has a day off and they're spending it in Edmonton. After a stroll through West Edmonton Mall and a jog through the river valley, Eddie will be getting his hair done and shopping for balsamic vinegar on Whyte Avenue. The rest of the guys will be hunting for rare guitars at area music stores, as all travelling musicians are wont to do, and then they're all going out to dinner at the King & I, where the Rolling Stones dined. Later comes an impromptu jam session in the courtyard outside at the Hotel Macdonald where they and all celebrities who come to Edmonton stay (including the Rolling Stones), before finally heading to the old Garneau Theatre for the not-quite world premiere of Twenty. Early reviews say it "rocks." Later on, they'll go catch their old buddies in Mudhoney, which just happens to be playing at the New City Compound on Thursday night. Another coincidence? Yes, damn it!
Spread the word, put the paparazzi on alert and watch for scruffy-looking rock musician-types in the audience at the movie theatre. Yes, this should be lots of fun even if Pearl Jam doesn't show up.
Which they won't. Until Friday, of course.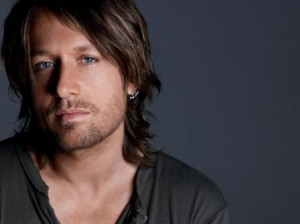 It's always fun to imagine IMAGINE an actual celebrity appearance in Edmonton. It happens so rarely when they're not being paid to be here that it is a truly special event – from Jann Arden donning disguise to attend the Edmonton Folk Music Festival to Nathan Fillion hanging around with old actor friends, though he was born and raised in Edmonton so maybe he doesn't count. Eric McCormack (Will & Grace) sometimes can be spotted around town because his wife Janet Leigh Holden has family here. Nicole Kidman hung out here with her kids the last time her husband Keith Urban played here – and might be again when the country star hits Rexall Place on Wednesday. And don't forget Snooki!
Where there's a dearth of visiting stars, the rumours are just as fun. There was a good one a couple weeks back about the expected guests for a local CD release party – including Chad Kroeger, Gord Downie, Bonnie Raitt and Ian Astbury. The artist whose CD was released shall go unnamed. Also remember the rumour that Nickelback was going to be popping in for an impromptu set at the Slave Lake Concert of Hope in July because Kroeger was to be fishing in the area. Didn't happen.
Facebook friends chimed in on the issue:
"Isn't calling Chad Kroeger a celebrity somewhat of an oxymoron? – Randy Reichardt (musician and librarian)
"Someone once told me that there are a number of celebrities that have places in Edmonton. Logic goes that since nobody would expect them to be here, they come here on occasion so that they can melt into the crowd. I'm sure that helps not at all." – Tom Murray (musician and freelance journalist)
"Mini-Me! K-Fed! They were down for an Indy race a few years back. Wow, we're a real Mecca for celebs." – Gene Kosowan (musician and PR man)
"My dentist fixed Nicole Kidman's broken tooth last year." –    Lenny Flutz (drummer, and under his real name Martin Salloum, president of the Edmonton Chamber of Commerce)
"When Edmonton hosted the Junos seven or eight years ago I was mistaken for [Canadian Idol winner] Ryan Malcolm about five times in one night at the Sidetrack. Fortunately his fifteen minutes of fame lasted about fifteen minutes, and I haven't had that problem since." – Corey Parmenter (recording engineer)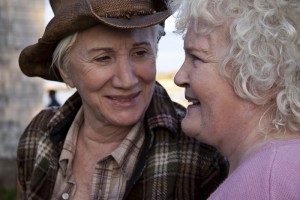 We're lucky. Think of how boring it would be to live in Hollywood where an encounter with Kirstie Alley would barely raise an eyebrow. Edmontonians know the value of celebrity. We'll roll out the red carpet for any star no matter their A or B or D level and he or she will be treated like royalty. And they needn't worry about getting mobbed. We're polite with our affection. We'll recommend a nice restaurant you have to try. We'll get the mayor to declare a special day. And you can be sure we'll treat Oscar winning actress Brenda Fricker – star of the Friday EIFF opener Cloudburst (above) – with just as much respect and awe in Edmonton as Madonna enjoyed in Toronto. We'll even tell the volunteers to look away as she passes by.
Pay the same courtesy to Pearl Jam when they come see the movie about themselves in Edmonton this week, won't you? It's the least we can do.