Simple Plan brings romance to Rexall Place Feb. 14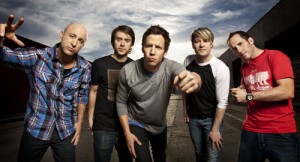 The plan was simple: Form a simple band that plays simple music – and then call that band Simple Plan.
It sure worked wonders for these Montreal titans of emo. Now you can mark your calendar – buy a 2012 calendar and mark that – for Feb. 14 when Simple Plan brings its zippy romantic punk anthems to Rexall Place. And on Valentine's Day, too. Coincidence? There are far too many coincidences lately for comfort. The band is touring behind its latest release, Get Your Heart On! Nice.
Opening the show will be the like-minded These Kids Wear Crowns, Marianas Trench and All Time Low.
Tickets are $29.50 or $45.50 and go on sale Friday, Sept. 23 at Ticketmaster here.