LMFAO returns to make us laugh f***ing a** off a second time Dec. 21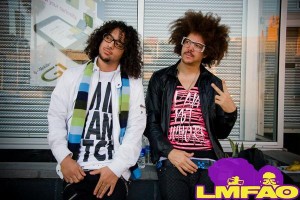 Somebody has to say it: LMFAO blew Ke$ha off the stage.
The wacky song and dance collective fronted by a couple of afro-ed dudes named Redfoo and Skyblu delivered a tremendous display of fun, groove, style, explicit sex, some nudity, giant blow-up animals and no redeeming lyrical content whatsoever. It's all about partying. And the problem is? Snappy dance anthems and choreographed routines worthy of Broadway – or at least Vegas – helped blow people's minds when LMFAO broke "Vegas Rules" (never upstage the headliners) when they opened the Ke$ha concert last month. The break dancing was especially spectacular, and the group's No. 1 hit Party Rock Anthem brought the house down. There's more where that came from.
If you'd wished LMFAO was headlining instead – your wish is granted! The band will return to Rexall Place with top billing on Wednesday, Dec. 21. With a solid bill of like-minded hip hop party animals that include Far East Movement, Natalia Kills, Frankmusik, Kay (The New Ke$Ha), Rye Rye and Colette Carr, tickets are $35 or $45 and go on sale Monday at Ticketmaster. It's the Cherry Tree Pop Alternative Tour!
LMFAO, by the way, stands for Laughing My Fucking Ass Off.
Nice to see band living up to its name once in a while.