INTERVIEW: Mudhoney also celebrates 'Twenty'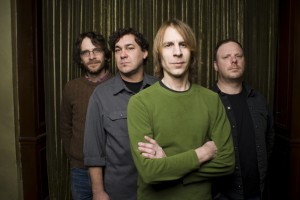 It's been 20 years since Seattle's grunge scene hijacked the North American pop charts. Tributes have been pouring in all year for Nirvana's iconic 1991 album Nevermind, while the documentary Twenty (which screened Thursday at Garneau Theatre as part of the Edmonton International Film Festival) celebrates the two-decade anniversary of Pearl Jam's debut Ten.
The same year, grunge godfathers Mudhoney unleashed Every Good Boy Deserves Fudge, an oft-forgotten gem that found little commercial success.
"It's a scrappy little record. I think it's a great record," band frontman Mark Arm says.
Mudhoney opened for their old pals in Pearl Jam at Rexall Place Friday night and headlined a club gig at the New City Compound Thursday.
With the help of producer Conrad Uno, considered a strange choice at the time, Every Good Boy Deserves Fudge expanded Mudhoney's heavily distorted sound, adding organ, harmonica and acoustic guitar into the mix.
"We did it with Conrad Uno in his basement studio, and he was up to that point known for recording the Young Fresh Fellows and poppier bands in Seattle," Arm recalls. "I remember Steve (Turner, guitarist) really wanted to record with him and called him on the phone and said, 'We want to record with you. And I guess Conrad just said, 'Why?' And started laughing."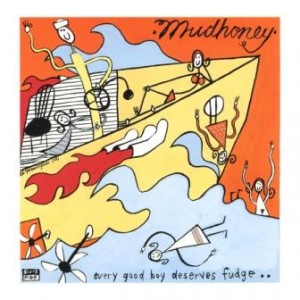 The music was outside the comfort zone for grunge rock's exploding mainstream audience (Soundgarden's breakthrough Badmotorfinger also hit in '91), but Mudhoney hardly cared to cater to that crowd. Opting to release the album through then-struggling Seattle label Sub Pop instead of going major, Arm never thought for a minute that Fudge would be his ticket to the big show.
"We knew there was no way it was going to break like Nevermind or Ten or anything like that," he says with a laugh. "You've seen the album cover right? And then you've heard the music inside, right?"
He's willing to name a few of his favourite tracks on Fudge.
"Good Enough is a song I really like. Broken Hands is one of my favourites, even though we haven't done that one in a really, really, really long time – that's sort of our fake Neil Young, Cowgirl in the Sand type song," he says. "Who You Drivin', Into the Drink, Let it Slide – I think that's a cool tune. And there's some that I can't even really fully remember at this point. Is Move Out on there?"
(Yes it is.)
Arm developed the classic grunge vocal style during his time with pioneering Seattle band Green River in the mid-80s, which also featured Turner and founding Pearl Jam members Jeff Ament and Stone Gossard. Mudhoney's commercial success peaked with its 1992 album Piece of Cake, while its counterparts went on to earn Platinum records and Grammys.
Today, Arm works in the Sub Pop warehouse, and all the band members still have day jobs – except drummer Dan Peters, who is a stay-at-home dad. Arm is grateful the band is still writing, touring and gaining new fans.
"We get a fair amount of people who are half my age coming out, which I'm stoked to see," he says, admitting he's not sure why albums like Fudge and the band's now-legendary Superfuzz Bigmuff EP still appeal to youth today.
"I can't get in their heads and tell you what they think," he says. "If I could, I'd have a great job in marketing."
When his band is on the road with his Pearl Jam, Arm says there is little reminiscing.
"This tour's about now," he says. "Steve and I were skateboarding with Jeff in Toronto the other day, we weren't just sitting around talking about the old days. We were talking about being in the skatepark and having a good time.
"There's nothing to talk about. None of us are nostalgic people."