Local artist scores $5,000 commission from AGA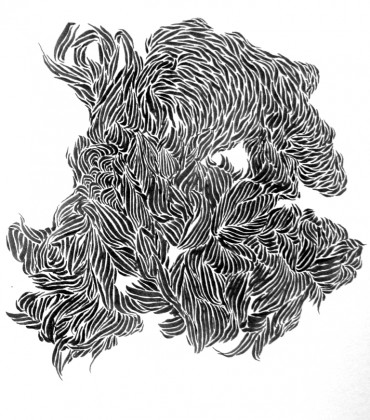 Dara Humniski is going to be covered in acrylic paint for an entire week – and you get to watch.
The 29-year-old Edmonton artist has been awarded a $5,000 commission to paint two giant blank walls inside the Art Gallery of Alberta, a total of nearly 700 square feet on the West and North walls of Manning Hall, that big boxy section off the lobby. She says her proposal was inspired by how the AGA looked while it was being built, the swoopy skeletal scaffolding before it was covered in foil.
"I was thinking that this was an interesting aspect of the architecture, but no one can see it anymore," Humniski says, adding there's a bit more to her planned mural than that. Imagery of the river valley will also be incorporated into what she says will be an abstract rendering of cloud formations.
"I'm pretty excited about it," she says. "It's the biggest drawing I've ever done."
Anyone can watch while the artist works. Admission is free to the lobby. She starts on Halloween and reckons it will take about a week to complete. The temporary installation piece (on display until May, 2012) will be unofficially unveiled at Nov. 19 AGA Refinery Party, whose producer just happens to be Humniski's husband Fish Griwkowsky.
Coincidence? Again, yes.
Fish has his hands in many projects and professions (filmmaker, cartoonist, journalist and writer-in-residence, to name a few, not to mention GigCity photographer) and like anyone who wants to make living in the arts in Canada has to hustle for every buck he makes. Likewise his wife, who graduated from the U of A Industrial Design program in 2004, is a member of the Loyal Loot Collective, a sort of "Group of Four" making waves in the Canadian art world, and working a day job at the Edmonton Arts Council – in the "public art" department. And now she's doing some public art.
Quite the power arts couple we have here.
Working in the arts in such a relatively small town as Edmonton will inevitably lead to doubling up, and with it the faint, awkward perceptions of nepotism and conflict of interest. Holger Petersen runs a record label AND hosts a radio show. Tommy Banks plays piano, his wife ran a booking agency. Punk rock promoters book their friends. It's not hard to find examples.
Fish has doubled up so much your head starts to spin just thinking about it, i.e., he was cinematographer for Trevor Anderson's High Level Bridge and also wrote about the film for local newspapers. But he came up with a good line on the issue: "It has been said that it's not what you know, it's WHO you know – but I don't agree with that at all. It's what you DO."