EIFF REVIEW: Meaty female roles let Oscar winners shine in Cloudburst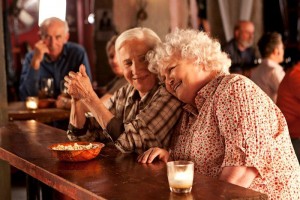 Remember how as a kid you used to recoil when grandma zoomed in for a big wet smooch and a cheek pinch?
But you secretly liked it, didn't you?
Now imagine two grandmas kissing each other. Now try to get that image out of your head.
These are just some of the emotions at play in Cloudburst. Probably the best menopausal lesbian road trip movie ever made, this film is a wild, uneven journey that veers from hilarious to melodramatic to confusing to thought-provoking to finally being genuinely touching. Selected as the gala opening film for the Edmonton International Film Festival, Cloudburst screened Friday at the Garneau Theatre for its Western Canadian premiere (Toronto turned it down, but it had its world premiere at the Atlantic film festival in Nova Scotia earlier this month).
Cloudburst has some flaws, but if acting is what you're into, this is a treat. What we have here are two seriously meaty female lead roles delivered above and beyond the call of duty by two of Hollywood's finest leading ladies. Oscar winner Olympia Dukakis makes a remarkable transformation into Stella, an angry, profanity-spouting, hard-boiled diesel dyke with a heart of pure gold. It's quite a physical role, too. Great moves for an 80-year-old actress. Stella's life partner for the last 31 years is Dottie, likewise brought to vivid life as the matronly yin to Stella's rough yang by Brenda Fricker (supporting actress Oscar for My Left Foot). Dottie, who is frail and legally blind, started playing for the other side late in life, so she has a granddaughter – who is naturally concerned that Stella, who's also getting on a bit, might not be capable of taking care of Dottie by herself anymore. Especially after a particularly spirited bout of senior love-making horseplay.
Related: Bob and The Monster turnaround
Related: Pearl Jam Twenty digs deep at EIFF
Related: It's Pearl Jam week in Edmonton!
We come to a glaring character continuity error here. Dottie, despite her disabilities, is still as sharp as a tack. Why she allows herself to be not only tricked into signing a personal directive for involuntary institutionalization, but taken willingly from her partner and home of 31 years to a long term care facility, is a mystery. Maybe she knows her granddaughter is right. Maybe she knows her time is nearing an end. Maybe. But this colourful character's behaviour throughout the rest of the film doesn't seem to fit the motivation. At one point, she snatches one naughty granddaughter by the ear. Dottie doesn't seem demented in the slightest, though Stella is showing some worrisome signs. And who ever heard of a court order to commit a senior to a senior's residence? Doesn't there have to be a lawyer present?
Or maybe Dottie went along with the scheme to test Stella, to coax her into proving her love and rescue her from the old folk's home – so of course the filmmakers get to stage a daring midnight ninja mission with Stella practically carrying her lover out the door and into the car and away into the night.
And our road movie is on!
The septuagenarian lovers are on their way to get married after 31 years of living in sin, to go to Canada (they live somewhere in Maine), where it's legal. Now they just need another colourful character and he comes conveniently as a hitchhiker (picked up to confuse the authorities who are after two old women on the lam) named Prentice, played by Ryan Doucette, who is definitely eye candy for old ladies. This guy turns out to be very colourful indeed, a kind of poet-drifter-male-stripper sort of dude given to sleeping naked in the back of pick-up trucks, which probably wouldn't be very comfortable even in the summer in rural Nova Scotia. But if we sat here all day banging away on the all the improbabilities in this movie, we'd never enjoy good cinema for what it is – a dream factory. Suspend your disbelief, shut up and move on.
The ladies effectively adopt Prentice as their son as the adventure continues, adding yet another emotional element to a tale already packed with pathos. A love story at heart, Cloudburst of course addresses the gay marriage issue, but just as important is the issue of aging, the idea of dying with dignity and the Western practice of dumping our parents (or grandparents) into plush prisons when they become too much of a burden. (See the great documentary Andrew Jenks: Room 335 for a fuller exploration of this theme; screens Monday at noon at the Garneau). And shot throughout this journey is a madcap comedy peppered with Stella's jaw-dropping lines. Sample: "If I was on death row, I'd request my last meal to be right between k.d. lang's legs."
Now there's an image you'll never get out of your head. That's the idea.
Brenda Fricker will be here for the opening on Friday night.