Pearl Jam vs Foo Fighters: the rivalry continues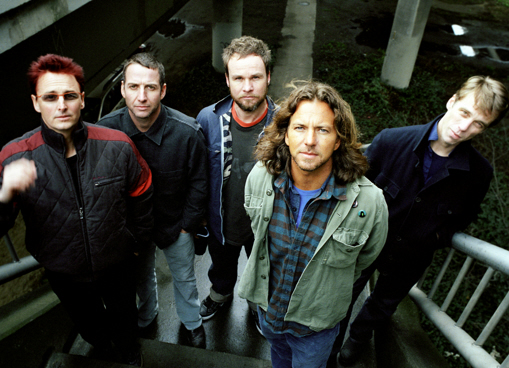 Related: Pearl Jam Twenty digs deep at EIFF
Related: It's Pearl Jam week in Edmonton!
Related: Mudhoney is twenty, too!
Back in 1991, the music world was taken by storm by the Seattle "grunge" scene, as the two frontrunners of the sound – Nirvana and Pearl Jam – released their pinnacle albums within one month of each other, Nirvana's "Nevermind" dropping in September of that year; Pearl Jam's "10" one month prior.
A one-sided rivalry erupted, as Nirvana's Kurt Cobain slammed Pearl Jam on a regular basis, in particular, and ironically, for their commercial success, labeling them as corporate sellouts. Pearl Jam never struck back, and frontman Eddie Vedder even wore a t-shirt emblazoned with the letter "K" shortly after Cobain's tragic death.
The fans took the so-called rivalry to the next level, and it continues to exist to this day, although now replaced by Pearl Jam and Foo Fighters, who play Rexall this week and next month, respectively. With a secondary trend of people going to fewer and fewer "big ticket" concerts, we were wondering whether all of this is impacting the two shows, with the two alt-rock supergroups playing so closely together. We went to twitter to see what people had to say:
@soldyouremine – "going to Foo. Pearl Jam would be nice but too much $$."
@nutsandgum – "Foo X2 – couldn't get good seats to PJ, but will continue trying"
@VictoriaUssyk – "neither; never liked Foo and too poor to go to Pearl Jam"
@amvanimere – "Pearl Jam no Foo. Let's put it this way: Mudhoney vs Cage the Elephant"
@interslicemusic – "I crossed PJ off my to-see list 2 yrs ago; now I gotta do the same with Foo".
@raspberrie – Neither (as of yet) – but I will be at The Foo somehow. I hope!
Two things pop out of this completely unscientific survey – one, a lot of the comments certainly addressed the cost issue; and two, this rivalry isn't made up in the least, even though it may live more in music fans than the actual bands. Either way, you get to decide!