EIFF ENCORE: Bob and the Monster turnaround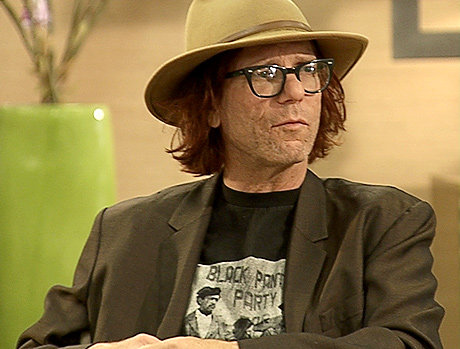 Bob Forrest is one brilliant guy. He's funny, compassionate, talented, magnetic. Unfortunately, he credits all of it to the comfort he feels when he's drunk or high.
It's not an uncommon story. But surviving it when you also happen to be a minor-league rock star with a big budget and lots of time on your hands is a hell of a different story.
Thus is life for Forrest, former frontman and outstanding songwriter for seminal L.A. rock band Thelonious Monster, which was once poised on the precipice of stardom alongside friends in Jane's Addiction and the Red Hot Chili Peppers, but instead imploded, largely due to the chaotic influence of Forrest's heroin and alcohol addiction….and in one pivotal moment, his cruelty towards his bandmates.
Bob and the Monster plays again on Friday, Sept. 30 at the Empire City Centre as part of the Edmonton International Film Festival.
Bob's scars run deep and, like many people, revolve around a feeling of lost trust in his parents, his most protecting influence. As a teen he discovers he has been lied to, and that the much older sister he has grown up with is actually his birth mother. Unable to deal with the complex issues of betrayal and subsequent detachment from a sense of security, Bob instead expresses his young man's rage through poetry and heroin, like his tragic counterculture heroes.
Related: Pearl Jam Twenty digs deep at EIFF
Related: It's Pearl Jam week in Edmonton!
Related: Mudhoney is twenty, too!
In Bob and the Monster, astonishingly frank archival hand-held camera footage from the 80s and 90s L.A. music scene is combined with dozens of artist and friend interviews, as director Keirda Bahruth catalogues Forrest's eventual triumph over addiction and his realization that his basic good nature, destroyed by numbing his childhood pain with heroin, can help others quit being drug dependent.
Some, like former Red Hot Chili Peppers guitarist John Frusciante, are displayed at their junkie worst. The transformation in Frusciante's case — with Forrest's help — from emaciated ghoul to functioning musician again is astonishing. Ultimately, Bob finds, he can help people tortured by personal anxieties to recognize the moments of positivity in their life are in no way dependent on the drugs that create most of their problems. He offers them unconditional love, non-judgement, and serious therapy.
If you've dealt with addiction, much of his story will feel achingly familiar. But what Forrest most ably demonstrates isn't how a junkie lives; it's how an ex-junkie rediscovers life, and realizes what he's been missing, and others can do it, too. It's a brilliant and touching reaffirmation of the positive side of humanity, and that anyone can regain their sense of purpose and value, no matter how detached and alone they feel.